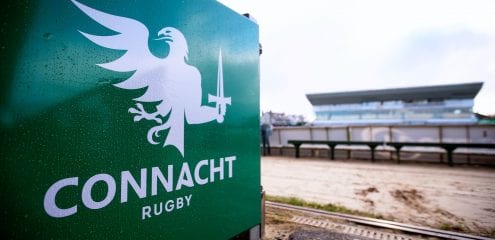 Connacht Rugby have announced the full 37-player extended training squad for the upcoming Vodafone Women's Interprovincial Championship.
The Interpro Championship kicks-off for Connacht this weekend with an away game against Leinster at Energia Park this Saturday.
Head Coach Lyndon Jones says he can't wait for the Championship to get going, and that
"Thanks to the ongoing work of our Women's Emerging Talent programme we have seen a number of exciting young players come through the ranks in the 15 months since our last competitive game."
A number of those rising talents have been named to the 37 player squad pool annonunced today, he added.
"We've a few players unavailable through injury, while Beibhinn Parsons and Anna McGann are on the IRFU Sevens programme, but I feel we've still put together a really strong squad".
He added that the strength of the squad is a testament to the hard work being done by the province, and local clubs, in growing the Women's game.
The squad are back on the road the following week with a trip to Kingspan Stadium to face Ulster on Saturday, January 14 with another 2.30pm start.
But a big one for Connacht fans will be the home game at the Sportsground against Munster taking place on January 21, tickets for which are available online.
Coach Jones said encouraged people to come out and support the women's squad on the 21st, as it's the only home game of the Championship.
"It would be well deserved for these players after all their efforts and commitment the past few months," he said.
CONNACHT RUGBY WOMEN 2022-23
Forwards (22)
Katelyn Bourke
Lily Brady
Grace Browne-Moran
Dearbhla Canty
Hannah Coen
Emma Fabby
Laura Feely
Orla Fenton
Emily Gavin
Stacy Hanley
Maria Kelleher
Jessica Loftus
Eva McCormack
Sonia McDermott
Elizabeth McNicholas
Lisa-Marie Murphy
Niamh O'Grady
Grainne O'Loughlin
Alana Roche
Fiona Scally
Mollie Starr
Karly Tierney
Backs (15)
Clara Barrett
Finola Collins
Mairead Coyne
Meabh Deely
Orla Dixon
Nicole Fowley
Maria Gorham
Olivia Haverty
Mary Healy
Laoise McGonagle
Eabha Nic Dhonnacha
Sarah O'Connell
Ava Ryder
Shannon Touhey
Kayla Waldron
Management
Lyndon Jones – Head Coach
Jill O'Malley – Team Manager
Craig Hansberry – Forwards Coach
Emer O'Dowd – Assistant Coach
Diarmuid Codyre – Assistant Coach
Jim Herring – Video Analysis
Ann Caffrey – Strength & Conditioning
Andy Moran – Physio