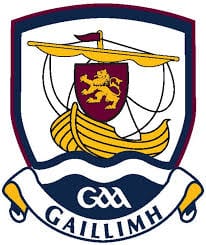 The National Football League Final in Croke Park is the highlight on the Galway GAA scene this week but there are five other finals with county interest this Easter. 
Galway take on Dublin on Sunday in Croke Park in their first league decider since 2006 but Good Friday to Easter Monday, there'll be others seeking silverware.
Two finals take place on Friday.  Naomh Anna, Leitir Moir take on Oileann Arann in the Keogh Accountancy Group under 20 West Football Final at 4pm in Inverin.  And in the Division Two League, Barna face Claregalway in the decider at 6.30pm in a venue to be decided.
There's another two big matches on Saturday that unfortunately clash at 5pm.  Presentation College, Athenry meet St. Kieran's College, Kilkenny in the All-Ireland PP Senior A Hurling Final at Pearse Stadium.  Remarkably at the same time, the County Senior Hurling League Final Replay takes place in Clarinbridge.
On Monday, it's the turn of the under 20 footballers again as the North Final takes centre stage.  Claregalway meet Mountbellew/Moylough in the A decider at 3pm in Tuam Stadium.
For a full run down on all Galway GAA fixtures, check www.galwaygaa.ie
Wednesday 28th March 
Minor A Football League – North 
Corofin vs Athenry (6.45pm Corofin)
Minor A Football League – West 
Oughterard vs Naomh Anna, Leitir Moir (6.45pm Oughterard)
Barna vs Salthill/Knocknacarra (6.45pm Páirc na bhForbacha)
St. Michael's vs Moycullen (6.45pm Westside)
Minor B1 Football League – North 
Tuam Stars vs Annaghdown (6.45pm Tuam Stars)
Minor B1 Football League – West 
Killannin vs Oranmore/Maree (6.45pm Killannin)
An Cheathrú Rua V Clifden/Renvyle (6.45pm Páirc an Chathánaigh)
Minor B2 Football League – North 
Caltra vs St. Brendan's (6.45pm Caltra Pitch)
Dunmore MacHales vs Headford (6.45pm Dunmore)
Minor B2 Football League – West 
An Spideal/Oileann Arann vs Kinvara (6.45pm An Spideal)
Micheal Breathnach vs Clonbur (6.45pm Indreabhán)
Minor C Football League – North 
Cortoon Shamrocks vs Kilconly (6.45pm Brownesgrove)
Friday, 30th March 
Division 2 Football League Final 
Barna vs Claregalway (6.30pm Venue TBC) 
Keogh Accountancy Group Under 20 B Football Final – West 
Naomh Anna, Leitir Moir vs An Spideal/Oileann Arann (4pm Indreabhán) 
Keogh Accountancy Group Under 20 A Football Semi-Final – West 
Mouycullen vs Oughterard (6pm Moycullen)
Ard Ri Hotel Division 5 Football (North) 
Caherlistrane vs Mountbellew/Moylough (6.45pm Caherlistrane)
Corofin vs Annaghdown (6.45pm Corofin)
Ard Ri Hotel Division 6 Football – North 
Kilconly vs Caltra (645pm Kilconly)
Cortoon Shamrocks vs Tuam Stars (6.45pm Brownesgrove)
Kilkerrin/Clonberne vs Monivea/Abbey (6.45pm Clonberne)
Minor B1 Hurling Championship 
Ballinderreen vs Kinvara (6pm Ballinderreen)
Saturday, 31st March 
Masita All-Ireland PPS Senior A Hurling Final – Croke Cup 
Presentation College, Athenry vs St. Kieran's College, Kilkenny (5pm Semple Stadium) 
Not pretty for All-Ireland Junior Hurling Final. But will be a game. Pres Athenry vs Kierans Kilkenny – UL at 1.30pm pic.twitter.com/Q4Mo682BHu

— Darren Kelly (@DazK1978) December 5, 2015
Senior Hurling League Final Replay 
Craughwell vs St. Thomas (5pm Clarinbridge) 
https://www.facebook.com/202781786401486/photos/a.481414608538201.118081.202781786401486/971457136200610/?type=3&theater
Division 3 Football League 
Monivea/Abbey vs Oileann Arainn (1pm Monivea)
Oranmore/Maree vs Kilconly (6pm Oranmore)
Caltra vs Williamstown (6pm Caltra Pitch)
Division 4 Football League 
Renvyle vs Dunmore MacHales (6pm Renvyle)
Corofin vs Clifden (6pm Corofin)
St. Gabriel's vs St. James (6pm Kilconnell)
Ard Ri Hotel Division 5 – North 
Glinsk vs Ballinasloe (6pm Glinsk GAA Pitch)
Headford vs Milltown (6pm Headford)
Car Parts Warehouse Division 5 Football – West 
Na Piarsaigh vs Salthill/Knocknacarra (6.30pm Ros Muc)
Killannin vs Moycullen (6.30pm Killannin)
Fr. Griffin's/Eire Og vs Naomh Anna, Leitir Moir (6.30pm Crestwood)
Ard Ri Hotel Division 7 Football – North 
Pádraig Pearses V Killererin (6pm Ballymacward)
Menlough vs Caherlistrane (6pm Menlough)
St. Brendan's vs Tuam Stars (6pm Ballygar)
Minor C Football League – North 
Menlough vs Kilconly (2pm Menlough)
Sunday, 1st April 
Allianz National Football League Final 
GALWAY vs Dublin (4pm Croke Park) 
Full Time here in Pearse Stadium and it's ended a draw. What a bleeding ending, it looked like we were beaten but these lads never know when they're beaten. Filthy game with Joe McQuillan an absolute disgrace again. More to follow….

Full Time:
Dublin 0-13 Galway 0-13 pic.twitter.com/IHT1gfa3l3

— Hill 16 Army (@Hill16Army) March 18, 2018
Ard Ri Hotel Division 7 Football – North 
Meelick/Eyrecourt vs Williamstown (12pm Eyrecourt)
Monday, 2nd April 
Under 20 A Football Final – North 
Claregalway vs Mountbellew/Moylough (3pm Tuam Stadium) 
Minor A Hurling Championship 
Meelick/Eyrecourt vs Craughwell (4.30pm Venue TBC)
Loughrea vs Clarinbridge (4.30pm Gort)
Liam Mellows vs Killimordaly (6pm Carnmore)
Tynagh-Abbey/Duniry vs Castlegar (6pm Gort)
Ballygar vs Athenry (6pm Fohenagh)
Minor B Hurling Championship 
Kilconieron vs Michael Cusacks (6pm Kilconieron)
Ardrahan vs Mullagh/Kiltormer (6pm Ardrahan)
Pádraig Pearses V Moycullen (6pm Padraig Pearses GAA Ground)
Rahoon/Newcastle vs Tommy Larkins (6pm Tonabrucky)
Kilnadeema/Leitrim vs Gort (6pm Leitrim Community Centre)
Minor B1 Hurling Championship 
Cappataggle vs Ahascragh/Fohenagh (6pm Capptaggle)
Portumna vs Killimor (6pm Portumna)
Cois Fharraige vs Oranmore/Maree (6pm An Spideal)
Annaghdown vs Sylane (6pm Cregg)
Wednesday, 4th April
Minor A Hurling Championship 
Turloughmore vs Salthill/Knocknacarra (4.30pm Venue TBC)
Minor A Football League – North 
Claregalway vs Monivea/Abbey (6.45pm Claregalway Lakeview)
Athenry vs Northern Gaels (6.45pm Athenry)
Caherlistrane vs Corofin (6.45pm Caherlistrane)
Minor A Football League – West 
Naomh Anna, Leitir Moir vs Moycullen (7pm Leitir Moir)
Oughterard vs Barna (7pm Oughterard)
St. Michael's vs Salthill/Knocknacarra (7pm Westside)
Minor B Hurling Championship 
Carnmore vs St. Thomas (6pm Carnmore)
Minor B1 Football League – North 
Annaghdown vs Ballinasloe (6.45pm Cregg)
St. Gabriel's vs Tuam Stars (6.45pm Kilconnell)
Minor B1 Football League – West 
St. James vs Oranmore/Maree (7pm Mervue)
An Cheathrú Rua V Killannin (7pm Páirc an Chathánaigh)
Minor B2 Football League – North 
St. Brendan's vs Dunmore MacHales (6.45pm Ballygar)
Headford vs Caltra (6.45pm Headford)
Minor B2 Football League – West 
Kinvara vs Clonbur (7pm Kinvara)
An Spideal/Oileann Arann vs Michael Breathnach (7pm An Spideal)
Minor C Football League – North 
Kilconly vs Milltown (6.45pm Kilconly)
Cortoon Shamrocks vs Menlough (6.45pm Brownesgrove)