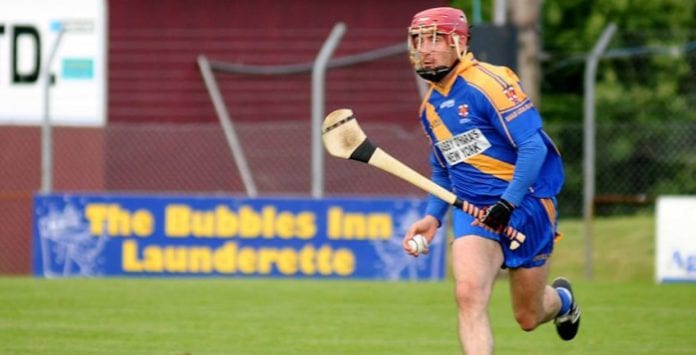 Loughrea, Gort and Sarsfields struck the first blows in a very competitive senior 'A' hurling championship group over the weekend with all three prevailing in Duggan Park, Ballinasloe. 
Loughrea hit their stride in the closing stages to run out 0-15 to 0-12 winners over Mullagh on Saturday evening.  The teams were level nine times before Jame Ryan created a two-point cushion for the first time around the three-quarter mark. (Click Here For Match Report)
Alan Madden produced two quality saves over the hour denying Padraig Kennedy and Sean Hardiman as Mullagh stayed in touch to the very finish.  A second Hardiman effort following Davy Glennon winning another close range free was held out by a resolute Loughrea defence.
And it was no less than what Mike Ryan's team deserved as they created as many opportunities before making it count in the closing stages.  Points for Ryan, Brian Keary, Sean Sweeney, Joe Mooney and Gearoid Loughnane will give them confidence ahead of their next test against Cappataggle.
GALWAY GAA: (Match Report) – LOUGHREA 0-15 MULLAGH 0-12 https://t.co/n88tOVY2iw

— Galway Daily (@GalwayDaily) April 9, 2018
Cappataggle were the story of 2017 reaching the county semi-finals but they came up just short against Gort on Sunday in Ballinasloe.
Tony Nevin's team led 0-4 to 0-3 earlier in the tie as Richie Cummins, Andy Coen and Keith Killilea pointed for Gort.  But the lead was overturned at half-time as Gort led 0-9 to 0-7.
Last year's county finalists maintained their superiority during the second period leading 0-12 to 0-9 after 40 minutes but that margin was reduced to one with 10 minutes left.  However, they outscored Cappataggle six points to four to take the win.
https://www.facebook.com/gortgaa/photos/gm.209057199865313/10155582793908721/?type=3&theater
And Sarsfields made the perfect start in the first game of the Sunday double header beating Portumna 1-15 to 2-9.
The game's three goals were scored in the first half as Sarsfields took a 1-8 to 2-3 interval advantage.  And the margins stayed equally tight throughout an exciting second half with the 2015 county champions only 1-13 to 2-9 ahead entering injury time.
But they finished strongly with two more scores including a superb effort from Kevin Cooney to seal the win against the former All-Ireland Champions.
Well done lads – win for Sarsfields on a score line of 1-15 to 2-09 🇳🇬🇳🇬

— Sarsfields GAA (@SarsfieldsGAA) April 8, 2018
SHC – Senior A Group 2 Results 
Loughrea 0-15 Mullagh 0-12
Gort 0-18 Cappataggle 0-15
Sarsfields 1-15 Portumna 2-9
SHC – Senior A Group 2 Fixtures (week ending 22nd April) 
Gort vs Portumna
Loughrea vs Cappataggle
Sarsfields vs Mullagh
SHC – Senior A Group 2 Table
| | | | | | | | | |
| --- | --- | --- | --- | --- | --- | --- | --- | --- |
| Team | Pld | W | D | L | F | A | Pts | Dif |
| Gort | 1 | 1 | 0 | 0 | 18 | 15 | 2 | 3 |
| Sarsfields | 1 | 1 | 0 | 0 | 18 | 15 | 2 | 3 |
| Loughrea | 1 | 1 | 0 | 0 | 15 | 12 | 2 | 3 |
| Cappataggle | 1 | 0 | 0 | 1 | 15 | 18 | 0 | -3 |
| Portumna | 1 | 0 | 0 | 1 | 15 | 18 | 0 | -3 |
| Mullagh | 1 | 0 | 0 | 1 | 12 | 15 | 0 | -3 |