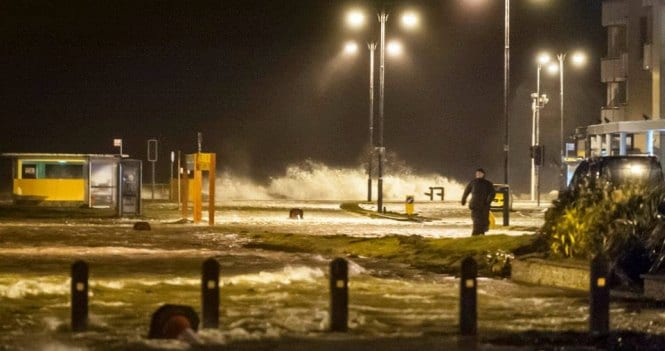 Multiple roads in Salthill are closed again this evening in case of late flooding from Storm Brendan during the high tide.
Galway City Council has closed the Promenade in Salthill from Blackrock to Grattan Road, as well as Grattan road between Dr Colohan Road and the causeway to Mutton Island.
High tide occurred at 7:08pm this evening and the council has reported significant overtopping by waves down in Salthill.
At high tide on Monday evening, overtopping has led to the Promenade at Salthill from Blackrock around to South Park being closed to traffic.
Extreme caution advised for the remainder of #StormBrendan Status Orange Weather ADVISORY. @emergencyIE pic.twitter.com/Ua5XGuTjdy

— Galway City Council (@GalwayCityCo) January 13, 2020
Car parks in Salthill have remained closed throughout the day, even after the Prom reopened when the morning high tide brought no flooding.
A Status Orange weather warning issued by Met Eireann for Storm Brendan will remain in effect in Galway until midnight tonight.
Galway has so far managed to escape any serious damage from Storm Brendan. Despite fears there was no flooding down in Salthill or at the Spanish on the morning high tide, just a slight overtopping.
There have also not been reports of large amounts of fallen trees blocking roads, with the city council responding to three incidents earlier today.
And while there were over 7,500 homes without power at the peak of the storm, the majority of those faults have since been repaired.
That said motorists are advised to drive with caution tonight and to keep and eye out for debris that is flying or blocking the road as long as the weather warning is in effect.
The city council is also advising locals to exercise caution in Salthill with overtopping waves this evening.