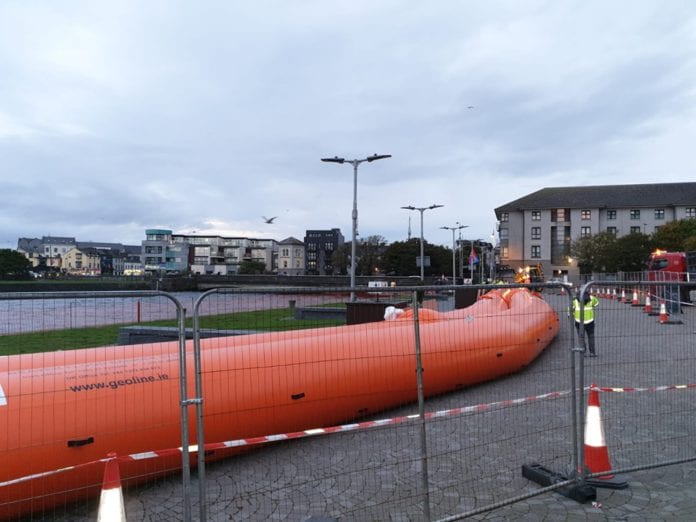 Galway City is preparing for the possibility of flooding once again today as the last of Storm Brendan comes with the evening high tide.
A Status Orange weather warning for Storm Brendan in Galway was originally due to expire at 9pm tonight, but Met Eireann have extended its duration to midnight.
Galway city was prepared for flooding on the morning tide this morning, with the Prom and Salthill car parks closed, and the flood barrier erected at Spanish Arch.
However the worst that occurred this morning was some slight overtopping in Salthill. The Prom was reopened this morning, but the car parks in the area remain closed.
A significant possibility of flooding remains this evening due to the high spring tides combined with storm surges which posed a risk this morning.
Galway City Council has said that road crews remain on standby for high tide, which is at 7:08 this evening.
No order has been given to close roads yet, but the council has said they are prepared to do so if necessary.
Galway escaped much serious damage from the worst of Storm Brendan earlier today. In the city road crews dealt with three fallen trees at Glenard, Kingston and Bothar an Choiste.
The County Council made sandbags available today at Gort, Kinvara, Clarinbridge, Oranmore, Leenane, Roundstone, and Oughterard for people concerned about flooding.
It said that flooding remains a risk this evening, and also advised motorists to be wary of flying debris, as well as fallen trees and power lines.
During the worst of the storm earlier today there were over 7,500 homes in Galway which were without power. The worst outage was in Recess, affecting over 5,800 properties.
However, ESB crews have been working to repair line faults throughout the day, and the bulk of these have no seen there power restored.
Just over 500 homes remain without electricity so far this evening, around 300 of which are in the Claregalway area. The remainder are in Spiddal, Inis Mór, and Creagh.