Galway West TD Hildegarde Naughton is set to receive a €16,000 pay rise along with two other Junior Ministers, after the Dáil passed legislation for a salary top up for a third 'super junior'.
The Fine Gael TD and Minister of State for Roads will receive a yearly salary of €140,000, as well as Fianna Fáil's Chief Whip Jack Chambers. The Green Party's Senator Pippa Hackett, who failed to win a seat in the general election, has seen her salary increase to €123,000.
Opposition parties have slated the move, with Sinn Féin branding the pay hike for a third 'super junior' as "disgusting".
Others opposition TDs said the 'super junior' Ministers should be given no more than a clap, in reference to the one minute applause for healthcare workers during the height of the first wave of Covid-19.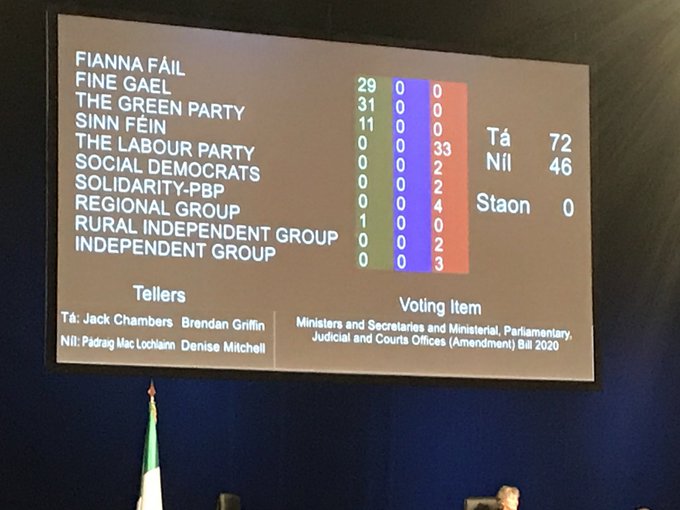 Sinn Féin TD for Mayo Rose Conway-Walsh strongly criticised the government ahead of the vote, saying the "money tree has landed firmly in the circle of greed" between the coalition parties.
"The only excuse that they have come up with is that it must be regularised. Absolutely, it must be regularised, but why not bring down the salaries of the other two to match it, so that they would be the same," she said.
"And we talked about frontline workers, and the care assistants care systems who are on the minimum wage, and some of them even aren't on the minimum wage, and they're the people are set by the beds of the people who are dying without any PPE gear, because we couldn't afford to give it to them."
She said that these are the people who went home crying every night, because the government couldn't afford to provide them with the necessary equipment.
"And we sit here and we say that somebody's getting over 2000 euros a week it isn't enough for them," Deputy Conway added. "If it's not enough for them, there's other people, that it would be quite adequate for.
"We tell people applying for Susi  – we tell the families no you're five euro over, sorry, nothing here for you, nothing for you today, you're five euro over, and we go and we do something like this.
"It is absolutely disgusting and everybody who votes for this should be absolutely ashamed of themselves."