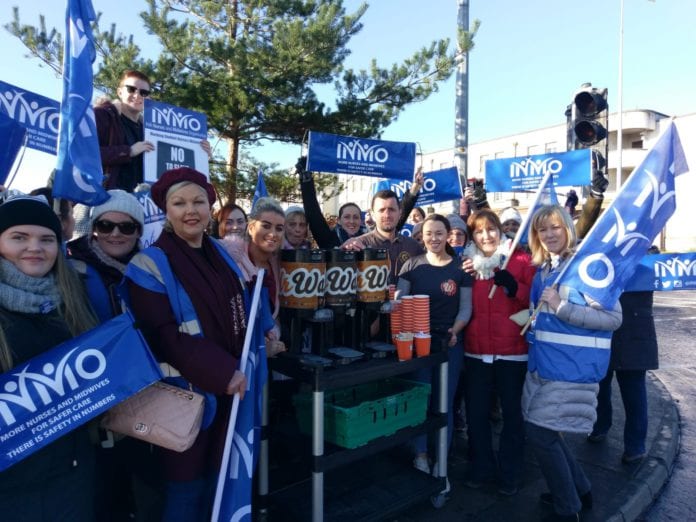 The Irish Nurses and Midwives Organisation is escalating its strike action with more strike dates announced.
The Union said that it has made this decision on the back of the government's "refusal to meaningfully engage" with them.
Roughly 37,000 member of the INMO took to the picket lines on January 30, and further strikes have already been planned for February 5, 7, and 12 – 14.
Now those plans for industrial action have been intensified with the number of services on strike this week increased from 82 to 240.
The Executive Council of the INMO has also announced extra strike dates for February 19 and 21.
Nurses are striking over issues of pay parity and working conditions which they say have made it impossible to retain staff.
"Nurses and midwives proudly stood up in defence of our patients and professions last Wednesday, but the government has responded with threats and intransigence," said General Secretary of the INMO Phil Ní Sheaghdha.
"Everybody except the government recognises that there is a serious understaffing problem in our health services," she said, adding that the public support displayed for strikers on Monday showed that people stand with the nurses.
At the strike outside UHG last Wednesday Amy Nugent, the manager of Mr Waffles café  brought coffee and pastries to striking nurses and midwives.
"We support the nurses. Fair play to them. It was absolutely freezing on Wednesday – of course we'd help," she said.
We brought over flasks of hot coffee and delivered pastries every day.  It was the least we could do for our wonderful nurses."
This is just the second nationwide strike that the INMO has led in its 100 year history.
"Our message is clear. We will not be going away – resolving this dispute requires direct engagement from the government, recognising the real recruitment and retention problems in Irish nursing and midwifery."
After the first strike last week, An Taoiseach Leo Varadkar has rejected calls for an independent review of the striking nurses pay claims.
Phil Ní Sheaghdha has said that no nurse wants to go on strike, but that this is the situation they've found themselves in.
"We simply want to be able to do our jobs, but our health service cannot hire enough nurses and midwives on these uncompetitive wages."