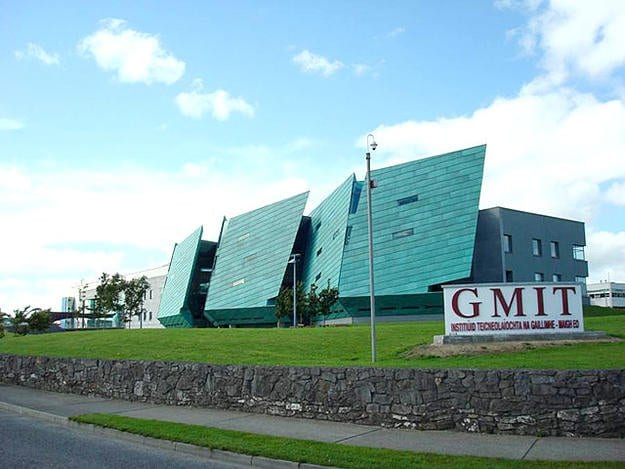 Minister for Business, Enterprise, and Innovation Heather Humphries broke ground this morning on a planned expansion of GMIT's Innovation Hub worth over €5 million.
The new building will more than double this size of GMIT's iHub, providing room for an additional three MedTech R&D units, and 17 incubation units for Software, Digital Tech, and Connected Health start-ups.
It will also feature  a Co-Working space; an Events Space; Social Hubs; and, breakout meeting and networking areas and an entrepreneurship hub where staff, students, and others can work together on projects.
Speaking at the groundbreaking Minister Humphries said, "Now more than ever, companies need to innovate to meet the changing needs of markets, and these additional facilities will provide even greater opportunities for local entrepreneurs and researchers in this regard."
The Minister also said that the expansion would provide a welcome boost to the local economy.
"This extended iHub will also impact positively on the local economy in Galway – the evidence tells us that new companies that start out in an incubator are more inclined to remain in that region."
Permission for the expansion was given to GMIT back in April and over €5 million in funding was secured for the project the next month.
Enterprise Ireland will contribute €3 million towards the cost of the new building, while a further €500,000 will come from GMIT itself.
Another €1.8 million has been allocated for the New Frontiers programme 2016-2020 which is delivered through the iHub by Enterprise Ireland.
New Frontiers is Ireland's national development programme for innovative early-stage start ups.
Companies that have previously come through New Frontiers include DiaNia Technologies, Contego Sports, TaxHug, Allergy Lifestyle, Wildwood Vinegars, Rockfield Medical, BriteBiz and VT Networks.
Minister @HHumphreysFG has turned the sod on the new extension to the @GMITOfficial Innovation Hub (iHub): "companies need to innovate to meet the changing needs of markets, and these additional facilities will provide even greater opportunities." https://t.co/JQR7NuCluG pic.twitter.com/GGR8FQEcgv

— Department of Business, Enterprise and Innovation (@EnterInnov) August 9, 2018
Attending the groundbreaking today were Mayor of Galway Niall McNelis and other local representatives, Head of Research & Innovation at Enterprise Ireland Gearóid Mooney, and of course GMIT leadership.
Dr. Michael Hannon, Deputy President of GMIT welcomed the new facility, which he said is needed to meet an ever growing number of start-ups in Galway.
"This new facility will allow greater interaction between cutting edge research and entrepreneurship at undergraduate level."
"Importantly, the increased space that will allow double the number of enterprises to be supported, makes the iHub centre self-sustaining."
Currently the iHub is supporting 23 different enterprises: 11 incubation start-up companies in MedTech and DigitalTech, five very early stage start-ups, and seven participants with the New Frontiers programme.
When the expansion is complete, there should be as many as 40 enterprises growing out of the iHub at any one time.
To date the iHub has supported creating 600 new jobs, 32 start-up, bringing 42 client companies to the region, and raised over €140 million in investment funding.