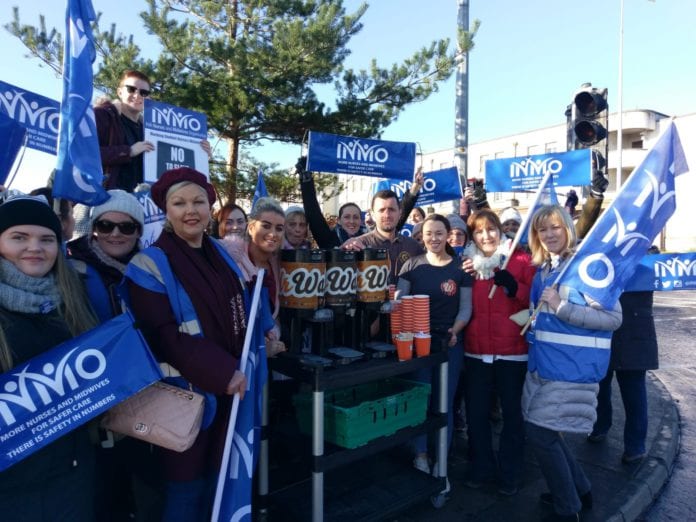 Finally, some good news for University Hospital Galway.
Nurses and midwives braved freezing temperatures on Wednesday in a strike for better pay and working conditions.
Galwegians honked car horns to show their support as they passed the busy junction near the hospital entrance.
Mr. Waffle manager Amy Nugent also provided hot drinks and pastries to the workers standing in the cold.
She commented: "We support the nurses. Fair play to them. It was absolutely freezing on Wednesday – of course we'd help.
"We brought over flasks of hot coffee and delivered pastries every day."
Nugent added: "It was the least we could do for our wonderful nurses."
The Irish Nurses and Midwives Organisation (INMO) released a statement today thanking the public for their support.
Organisation President Martina Harkin-Kelly said:
"We have been heartened and humbled by the support for our nurses and midwives on strike. Going on strike – especially in sub-zero temperatures – is not an easy decision. Knowing that the public overwhelmingly have our backs means the world to us.
"We have also had over 60,000 people in the past 10 days sign the INMO's petition standing with nurses and midwives.
"Public opinion is firmly on the side of Ireland's nurses and midwives. It's time for the government to take heed."
Meanwhile, new INMO figures show that UHG isn't even in the running for most crowded hospital in January.
With over 10,000 patients left on trolleys in the State last month – a record-breaking figure – Galway wasn't even in the top five.
UHG trailed Limerick, Cork, Tipperary, Letterkenny, and Waterford hospitals.
This after our local hospital was the third-worst in Ireland for overcrowding in 2018 – another record-breaking year.
However, there were still 534 patients left on trolleys in Galway this month.
Hopefully the situation will improve further into 2019.