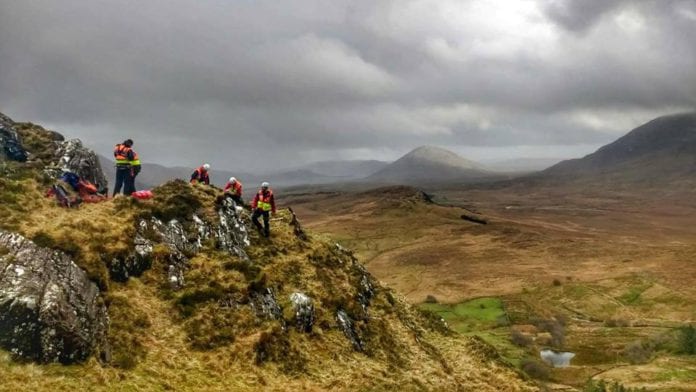 Galway Mountain Rescue has urged people to avoid walking in the mountains of Galway during the coronavirus pandemic, as there will be reduced rescue services available in this time.
Mick Casserly, team leader of Galway Mountain Rescue, said that while they are committed to saving lives in the mountains, the "tangible threat" that Covid-19 poses puts them in uncharted waters.
They are continuously updating their operational procedures based on the most up-to-date public health advice from the HSE, and this will affect rescue services in Galway and Clare for the foreseeable future.
"With the high volumes of people observed on Irish mountains over the last week, and given the current climate in relation to Covid-19, Galway Mountain Rescue must make a number of difficult choices relating to the way in which we operate."
With that in mind, substantial changes have been made to their procedure for people seeking help from mountain rescue during this pandemic.
If someone calls for help who is uninjured, lost, or benighted, they will be asked to consider waiting until morning, and/or better visibility to extricate themselves.
Someone who is injured, but could be considered 'walking wounded', will be asked to consider extricating themselves from the mountain.
If someone is seriously injured, or otherwise unable to get themselves off the mountain, the team will attend with the bare minimum number of personnel necessary for the operation.
This will make any evacuation more challenging, and increase the time it takes to get someone to medical attention.
In addition, helicopter support will only be requested if there is a critical injury which requires immediate attention.
While these measures may go against everything they believe in, they are necessary in order to protect volunteers and their families, Mick Casserly said.
"I share this information with a heavy heart, but given this unprecedented public health crisis, I do so in the knowledge that it is the right thing to do at this time."
"When calling out the Team to an incident, our first priority has to be the safety of Team members and their families.
"We are all volunteers, many of whom live with and care for 'vulnerable' people at home and in our working lives.
"By its very nature, mountain rescue requires close contact between both rescuers and casualty, exposing everyone to the risk of infection.
"Remember, we could also infect you! Our already over-burdened hospitals do not need or want any avoidable admissions over this difficult period."
With all that in mind, Galway Mountain Rescue is asking people to forego enjoying the mountains of Galway for now, and abide by the HSE's public health advice surrounding social distancing.
If people don't, Casserly warns that there may come a time when the mountain rescue team is unable to respond at all.