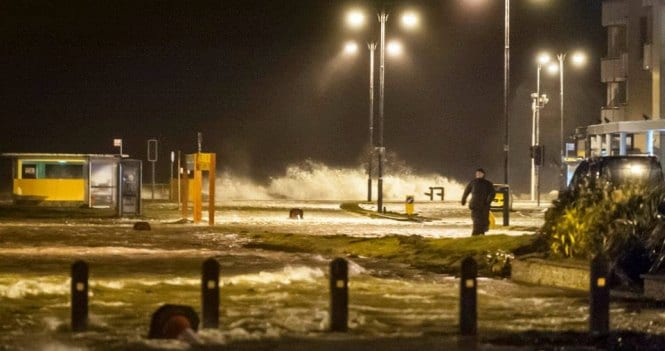 Galway City Council is preparing to deal with flooding from Storm Ciara this evening and on Sunday morning.
Multiple weather warnings are in effect today, and more will be in place tomorrow, as Storm Ciara brings heavy winds, rain, and a risk of flooding to the west.
A Status Orange weather is in place in Galway until 6pm this evening, with sustained winds of 65-85km/hr forecast, along with gusts of up to 120km/hr.
Another orange storm alert issued by Met Eireann today will be in place from 5am to midday on Sunday.
A combination of Spring Tides and high seas as well as stormy conditions will result in a significant risk of coastal flooding in Galway.
The City Council Severe Weather Assessment Team met this morning to prepare for the worst risk of flooding during high tides this evening and early on Sunday.
Overtopping is expected along The Promenade and car parks in Salthill have been closed as of 2pm this afternoon and will remain closed until after high tide tomorrow.
Council road crews will be on standby throughout the day to deal with any issued, and further road closures may be ordered in Salthill as necessary.
The council has also said that it will "continue to monitor the situation and will put further measures in place as necessary on Sunday and throughout Monday".