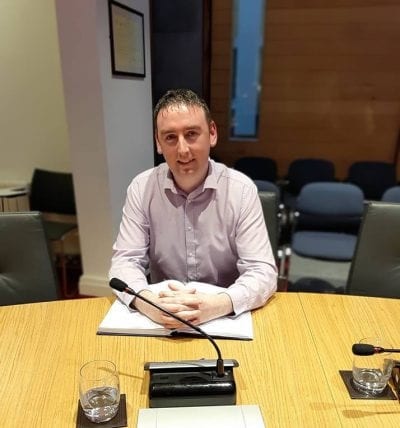 Mike Cubbard is the big winner so far today in Galway City Central, with the final tally showing the Independent councillor topping the poll for the second time.
Cllr Cubbard and Fianna Fáil's Ollie Crowe are both happy this evening with the tally of first preference votes from the City Central district showing that they will both be holding onto their seats.
Mike Cubbard has 1,384 votes in the final unofficial tally, more than 300 over the quota, while councillor Crowe is also safe with 1,003.
Fine Gael are in the running for two seats on the city council with first time candidate Eddie Hoare polling in third place with 845 votes and returning Frank Fahy capturing 8.71% of the electorate with 687 votes.
However councillors Mark Lohan and Collette Connolly are in danger of losing their seats to a wave of new candidates.
Mark Lohan, the only Sinn Féin candidate in the Central Ward, is currently polling at 4.72 percent of the vote and seems likely to lose his seat.
While the final two seats in this district are locked in a close four way battle between the Green Party, Labour, the Social Democrats, and the Independent Collette Connolly.
The Green wave that's been seen today across the country is making itself felt here in Galway as Martina O'Connor is currently holding a slight lead over the other three with 543 votes.
John McDonagh seeks to hold onto the seat of his retiring Labour colleague Billy Cameron with 528 first preferences in the unofficial tally.
While the Social Democrats are hoping to get a place on the city council with Sharon Nolan in with a chance of gaining a seat at 508 votes.
While councillor Collette Connolly is fighting to hold onto her seat against the progressive parties, currently at 495 votes.
But there is less than 50 votes between the four candidates, making it impossible to call at this stage.
Not too far below them are Imelda Byrne (FF), Cormac O'Corcorain (Aontu), and Joe Loughnane (PBP).
Ballots from the city central district are now in Westside Community Centre for the official counting while tallies from the west ward are moving slowly.
The Galway City Central First Preference Results are as follows:
1. Mike Cubbard (Independent) 1384 16.09%
2. Ollie Crowe (Fianna Fáil) 1003 12.47%
3. Eddie Hoare (Fine Gael) 845 10.68
4. Frank Fahy (Fine Gael) 687 8.71%
5. Martina O'Connor (Green Party) 543 6.74%
6. John McDonagh (Labour) 528 6.62%
7. Sharon Nolan (Social Democrats) 508 6.36%
8. Colette Connolly (Independent) 495 6.26%
9. Imelda Byrne (Fianna Fáil) 477 6.04
10. Cormac O'Corcorain (Aontu) 431 5.49
11. Joe Loughnane (People Before Profit) 379 4.76
12. Mark Lohan (Sinn Fein) 330 4.72
13. Mike Geraghty (Independent) 245 3.10%
14. James O'Toole (Independent) 111 1.47%
15. Daragh O'Flaherty (Independent) 86 1.08%
16. Patrick Feeney (Independent) 1 0.01%