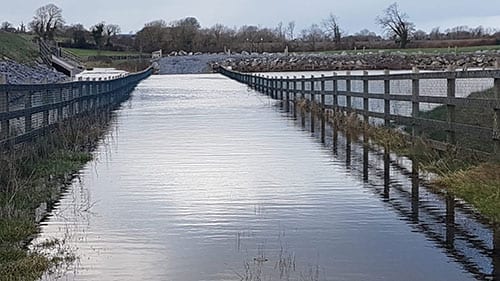 Galway has been deluged with flooding in the past several weeks and people and groups affected by this crisis are being urged to apply to flood relief schemes.
Galway East TD Seán Canney said that two schemes have been activated or announced to provide flood relief to householders, small businesses, sports clubs, and other groups.
The Department of Employment Affairs and Social Protection has activated the Humanitarian Assistance scheme, which will support householders through their local authority.
Minister for Business, Enterprise and Innovation Heather Humphreys TD has also announced the opening of a scheme to provide assistance for small businesses, sports clubs, community and voluntary organisations unable to secure flooding insurance.
"These schemes are very welcome and will support those suffering hardship as a result of the current floods," Seán Canney said.
The independent TD said that the scheme for clubs and businesses will be extremely helpful in getting them back up and running.
"For householders requiring immediate assistance, financial supports will be made available," Deputy Canney added.
"They will apply where people are not in a position to meet costs for essential needs, household items and in some instances structural repairs."
The small businesses and clubs scheme is being administered by the Irish Red Cross and provides a maximum support of €20,000.
The support level for householders is currently being determined by the department, which Deputy Canney says is working with local authorities to determine what level of assistance is needed.