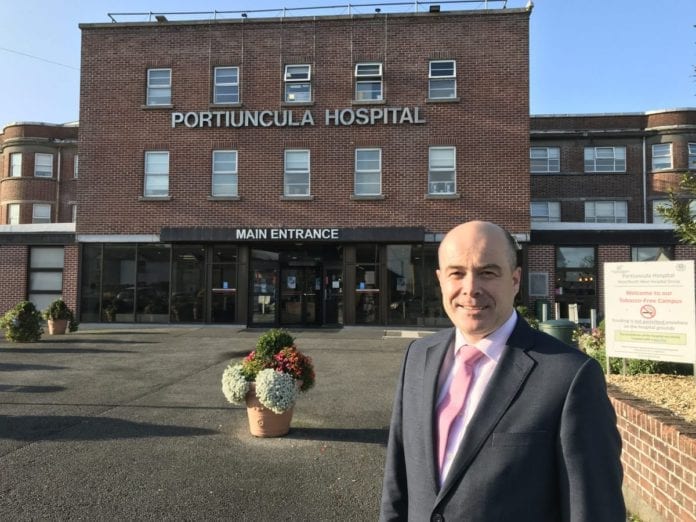 There has been a major reduction in the number of buses serving Portiuncula Hospital as a result of the cancellation of expressway intercity services.
Galway TD Denis Naughten said that since the cancellation of the Galway-Dublin expressway route, the number of buses stopping at Portiuncula between 7:30am and 9:30pm has fallen drastically.
Route 20/20X from Galway to Dublin City and Airport was one of a number of Expressway services cancelled by Bus Eireann towards the end of July.
At the time, Bus Eireann said that this was done due to operating losses, which were expected to continue, and to preserve other routes.
In response to queries by Denis Naughten, and county councillors Evelyn Parsons and Tim Broderick, the NTA said that the commercial services such as CityLink and Aircoach sufficient to cover Ballinasloe and Portiuncula Hospital.
Deputy Naughten said that whereas there were 226 buses a week stopping at Portiuncula under the Bus Eireann service, CityLink only has 84, a reduction of 60%.
Denis Naughten said that this will only drive people away from public transport. "I believe this decision totally undermines the Government policy on climate change which is focused on encouraging people to move from cars to public transport."
"How can we get people to move when those with a right to free transport can't actually avail of it?," the Independent TD asked.
Cllr. Broderick said that "the lack of a bus connection from local villages to Ballinasloe and particularly to Portiuncula Hospital leaves older people in particular, reliant on neighbours to get them to appointments".
"This is not acceptable at a time when we should be increasing local health services not closing them off to sections of our community"
Cllr Evelyn Parsons said "We have mixed messages and double speak on public transport services at a time when the Government are asking people to take cars off the road and to lower emissions.