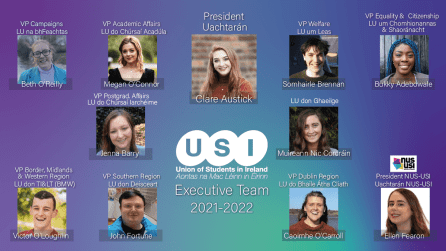 Former NUIG Students' Union President Clare Austick has been elected President of the Union of Students in Ireland for the next academic year.
Clare, who is the current USI Vice President for Welfare, will be joined on the Executive Team by nine new faces, as she was the only sitting member of the team to run for election.
The USI Congress was held via Zoom with delegates voting online for the 2021-2022 Executive Team as well as a number of policies and motions.
Congress was also streamed live on Facebook so students could watch the action as it happened.
Speaking after her election, Clare said that there is a lot of work ahead for the union as students get back to life on campus after COVID-19.
"I am absolutely delighted and honoured to have been elected President of USI for the next academic year," said Clare.
"I am very much looking forward to working with the new team and student representatives across the island of Ireland in what will be another very challenging time for students."
Clare said that there is a lot to do and as we look forward to coming out of the pandemic, the Union will need to ensure that there is a focus on students' well-being.
"There is a lot to consider whether it's mental health concerns or the impact on their academic achievements and much more," she added.
"Apart from myself and NUS-USI President, Ellen Fearon, there will be a whole new team and that will give us a good opportunity to reflect on where we are and to make new, exciting plans for the future.
"This is still a time of huge challenge for students, and for Irish society in general, and we will be there fighting to ensure the best outcome possible is achieved for students over the year to come."