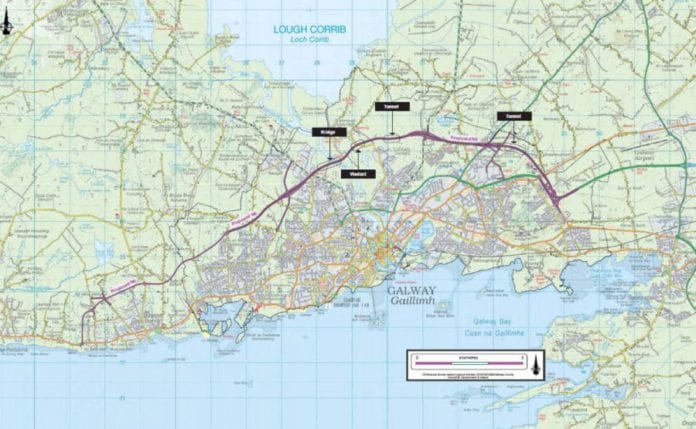 The first round of notifications have been sent out in relation to the €600 million Galway Ring road.
According to the Irish Times, up to 90 property owners have been sent notifications of compulsory purchase orders if the project is given planning approval as it is.
The government gave its approval for the ring road project to go ahead earlier this month, and committed to providing the €600 million in funding it requires.
A planning application from Galway county council is currently with An Bord Pleanála who will decide whether to grant approval to the project.
If approval is granted, 44 houses will have to be demolished to make way for the ring road, with land to be acquired from many more people.
Up to 1,000 letter of notification will be sent out to landowners who own property along the planned route of the bypass.
The county council has submitted an environmental impact assessment and Natura Impact statement with An Bord Pleanála as part of the planning process.
Submissions from interested parties can be made to the board in relation to the planning application up until December 21.
An oral hearing is expected to be scheduled for some time early in next year.
The ring road project has attracted broad support from Galway's business community and elected representatives.
Four of the five TDs for Galway West back the ring road, with Catherine Connolly warning that there is dangerous group think going on among developers.
She says that at a time when the government is failing to meet its climate change objectives, infrastructure projects should focus on taking cars off the road.
The ring road would connect the N6 at Coolagh out to Barna, with two tunnels and a new bridge across the Corrib just North of the NUI Galway sports grounds in Dangan.
At a price tag of €600 million, the cost of the ring road works out at roughly €30 million for every kilometre.