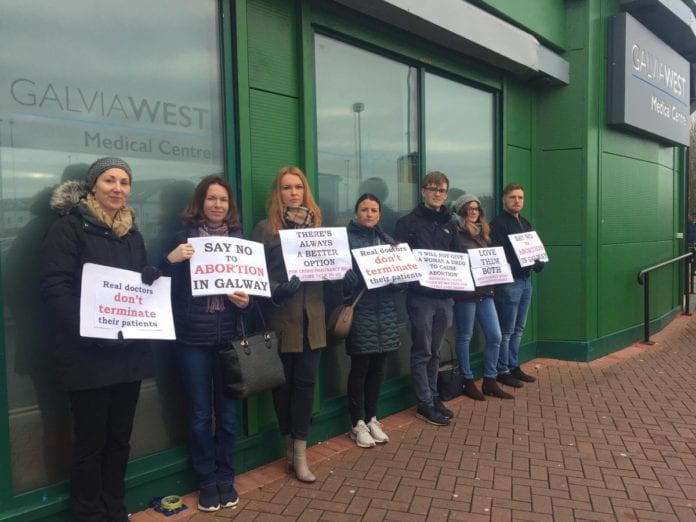 Pro-choice activists have issued calls for a ban on protests outside medical practices offering abortion services after a protest outside a Galway clinic.
Galway Pro-Choice said women need "safe zones" to "combat this harassment" and warned people about a number of fake websites that are mimicking the official MyOptions site to give false information.
It comes after a small group of people protested outside Galvia West Medical Centre on Thursday with signs carrying anti-abortion messages.
The group picketed the clinic for several hours on Thursday morning and left in the afternoon.
Ailbhe Smyth from the Together for Yes Campaign said these protesters are deliberately trying to prevent women from accessing abortion services.
Minister for Health Simon Harris has pledged to introduce legislation which would create exclusion zones around medical practices offering
Speaking on Newstalk Breakfast Ms Smyth said Minister Harris and his Department need to get to work on this as soon as the Dáil returns "so that women are safe and their rights are respected."
In a statement posted online a member of the group of protesters said that they had chosen the Galvia West clinic for their protest as it is on the HSE list of GPs offering the abortion pill.
Positive news from Galway City. We stood outside a GP clinic that is on the HSE list as being an outlet for the abortion pill. The reaction from Galwegians was amazing. We had offers of food and coffee, beeping horns and support from many.
The message was 'keep going'. pic.twitter.com/HkRoAlE2Oa

— Walk Tall (@DrCollins10) January 3, 2019
The protestors held signs with messages such as "Real doctors don't terminate their patients" outside the clinic, and left peacefully that afternoon.
Meanwhile the HSE warned that a number of websites have cropped up with very similar names and appearances to the official website of the MyOptions helpline claiming to offer support for people support for unplanned prengancies.
The HSE cautioned people to be wary of such sites as many unplanned pregnancy agencies may have a "hidden agenda".