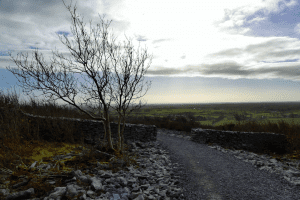 Nature lovers who like to go for a stroll away from the towns will get the chance to try out two new walking trails which have opened at Knockma Wood in north Galway.
The National Parks and Wildlife Service have an additional 1.3 km to add to the existing walking trails at the wood in Caherlistrane with the 1km Finvarra's Trail 300m and Queen Maeve Trail.
These two new trails add to the existing 4km Green Forest Loop and 2km Avenue Loop at Knockma Wood.
Following the transferral of the Woodland to the NPWS in 1988, work began on the construction of a pathway around it in 1996.
In the years since the NPWS has worked with Caherlistrane Kilcoona Community Council to provide more accessibility to the public and now more than 100,000 people visit the woods every year.
Caherlistrane Kilcoona Community Council received €80,000 for this project from the Department of Rural and Community Development with work beginning in early 2018.
As well as creating the trails themselves this project involved creating new car park facilities and other works.
The area offers breathtaking views around the whole region from Connemara and Lough Corrib to Galway Bay and Clare, then across towards Abbeyknockmoy and East Galway.
Knockma Hill itself is steeped in history. Maeve, the legendary Queen of Connacht is reputedly buried atop the hill and Finvarra the mythological king of the fairies in Connacht was also said to hold court there.
Speaking at the opening Seán Canney, Galway TD and Minister of state for rural and community development said this resource is important to the local community and surrounding Tuam area.
He added that it would act as "an additional recreational amenity to bring direct benefits to visitors for their health and wellbeing."
"This project will ensure that Tuam and North Galway are included as a destination of choice under Ireland's Hidden Heartlands."