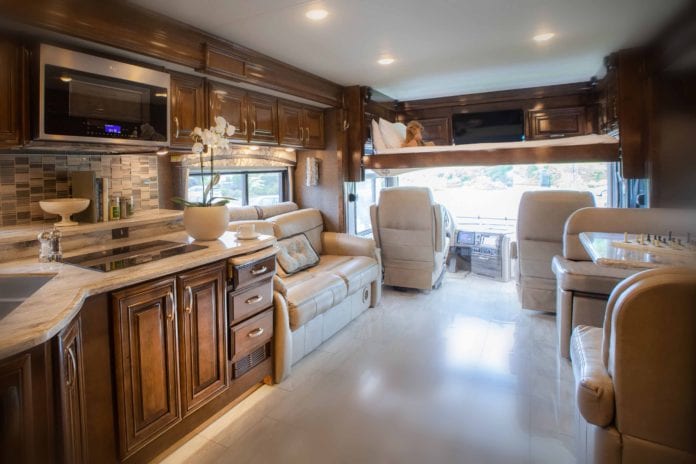 Galway's Connacht Hotel has broken new ground in the self-catering tourism market with the launch of the 'Connacht Cruiser' luxury motorhome.
The Connacht Hotel is known for providing some of the best family holidays in the west of Ireland, and already has a wide range of accommodation options, including their self-catering apartments, family bunk-bed rooms, and two-bedroom suites.
The Connacht Cruiser is the newest addition to that lineup, offering all the luxury and independence of a self-catering apartment, but with more freedom from having your own indoor and outdoor space.
The state of the art luxury motorhome is as far from a cramped caravan as you could imagine, able to accommodate eight people in style, with all the amenities of a high end hotel.
The Connacht Cruiser is now available to book for this coming July and August for people who are eager to get back to holidaying after so long stuck at home.
But a little more on what makes this such a special way to spend you holidays.
The Cruiser is outfitted with six flat-screen TVs including an Exterior 39″ LED TV with a bluetooth sound bar, so you're never going to be stuck fighting over what to watch.
The Master Bedroom comes with a luxurious Denver Mattress King size bed, with a tilt-a-view bed inclining mechanism to help watch TV in bed, or just get the most comfortable sleeping position, and power drop-down hide-away overhead bunk with a Cotton Cloud mattress.
And of course the Master Room has it's own en-suite bathroom, so be such to call dibs first.
Two sleep pods are ideal for the kids to kick back in on holidays so they can have their own space, and the Cruiser has another two doubled beds stored snugly in the Living Area.
The Kitchen Is equipped with an electric induction cooktop, full sized Fridge freezer, washer & dryer, and a stainless steel over-the-range convection microwave oven so you'll never be left unable to have the food you want.
Whether you're planning a one night stay or a fortnight's getaway to the west coast, Galway's many enthralling sights and experiences and the incredible hospitality sector here can make this experience special for any type of holidaymaker.
Start your staycation with a difference this summer by using the Connacht Cruiser as your base to explore Galway from, and enjoy all the facilities and amenities of the newly refurbished Connacht Hotel to go with it.
The Connacht Cruiser must be booked for a minimum of two nights, and is stationary at the Connacht Hotel until September 2020.
Visit www.theconnacht.ie to book your staycation now.