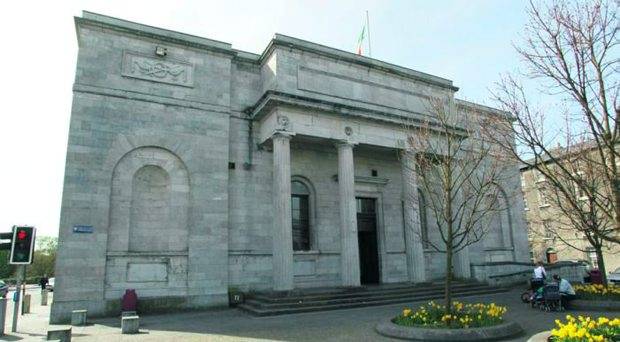 A vicious home invasion and knife attack while the victim's horrified children looked on earned a man a ten and a half years in prison at Galway Circuit Court.
Eddie O'Loughlin, with an address at Finbar's Terrace in Bohermore, was sentenced for a single count of aggravated burglary which involved breaking into a woman's home and attacking her partner with a knife.
Initially O'Loughlin pleaded not guilty to the charges, and the case went to trial on February 7, 2018. However, after Adrienne Keary gave direct evidence at the trial he changed his plea to guilty.
Despite this plea of guilty, Mr O'Loughlin's barrister said at the sentencing hearing that he maintained his innocence, that he didn't have a knife on the day in question and that this event never happened.
Knife attack
At the sentencing hearing this week Detective Garda Pat Fahy outlined the facts of the case for the Circuit Court.
On the morning of June 20, 2016 at a residence in An Sean Bhaile, Doughiska, Adrienne Keary was at home with her three kids getting them ready for school.
Her ex-partner Jonathan King, the children's father, was also there, sleeping in an upstairs bedroom.
Shortly before 8am there was a knock on the door, and when the woman answered it she saw Greg Hayes, a man she recognised.
She also saw a black Audi pulled up on the street, with a man sitting in the back seat with his hood pulled up.
Hayes asked her if King was in the house. She then called to him upstairs and shut the door most of the way.
While she was looking over shoulder the door was slammed open by O'Loughlin, knocking her to the ground.
Eddie O'Loughlin rushed inside with a knife and jumped on Jonathan King, who was halfway down the stairs, and began stabbing him repeatedly.
Garda Fahy said that King was stabbed six or seven times, suffering injuries to both sides of his ribs, his face and chest.
The knife used in the attack was a large kitchen knife with a serrated edge, Garda Fahy told the court.
O'Loughlin was known to Mr King, the court heard, and during the attack King repeatedly asked what was happening.
The eldest girl, who was 17 at the time, tried to pull her father away from O'Loughlin, who then swung the kitchen knife at her face.
One the other children, a girl who was 12 at the time, was screaming on the stairs while her father was attacked.
At one point Eddie O'Loughlin fell away from King against a table in the hall, but then launched himself at King with the knife again.
Adrienne ran out the front door and began banging on her neighbours window, yelling for help.
O'Loughlin came calmly walking out of the house with the bloody knife in his hand. He looked directly at her and put his finger to his lips before a third person who never left the car drove them out of the estate.
While this was happening one of the girls inside the house had called 999 to get help, identifying the attacker as Eddie O'Loughlin.
Gardaí arrived five minutes later, and Garda Fahy said that there was blood on the carpet, the walls, the stairs, bannister, and all over a bathroom also.
It was quickly established that Greg Hayes drove a black Audi, Garda Fahy said, and the same day he was arrested at his address at 16 Lios an Uisce, Murrough along with O'Loughlin, who was also present.
O'Loughlin was interviewed once by gardaí, where he "did his level best to frustrate the interview process" Garda Fahy said, refusing to cooperate in any fashion.
Despite this blood was found on the upper thigh of the jeans he was wearing when arrested, which was matched to Jonathan King.
He was charged at a special sitting of the District Court the following day.
Greg Hayes had already been dealt with by the court before this week's hearing, receiving a nine month suspended sentence after making full admissions and pleading guilty to his part.
Garda Fahy said that Hayes is a "totally different individual" to Fahy, and that he had possibly been pressured into taking part.
Though she gave direct evidence at the trial, Adrienne Keary did not give a victim impact statement at the sentencing hearing, telling gardaí that she "just wants this whole thing to be over".
For his part Jonathan King refused to give a statement to gardaí at any point in the investigation.
Mr O'Loughlin's barrister said that he fell into criminality at an early age due to a "dismal childhood" and leaving school early at the age of 15.
It was not long after this when he received the first of his 35 convictions, receiving a jail sentence for burglary.
The defence also said that he has struggled with drug addiction from a very young age and suffers from anxiety, depression, and suicidal thoughts.
Despite this, the defence said that he has qualified as a fitness instructor in prison, and the he hopes to reunite with his partner and two children after his sentence, and leave Ireland.
Judge Rory McCabe said that it was clear from the evidence that this was a premeditated attack, which only aggravated an already very serious offence.
He said that this was at the higher end of the scale of gravity of any charge of aggravated burglary.
Judge McCabe added that he saw very little evidence to convince him of the prospect of rehabilitation, saying O'Loughlin has "little or no respect for the law and an entrenched disposition to criminality".
The judge imposed a prison sentence of 10 and half years with credit for the time served since he went into custody in February 2018.