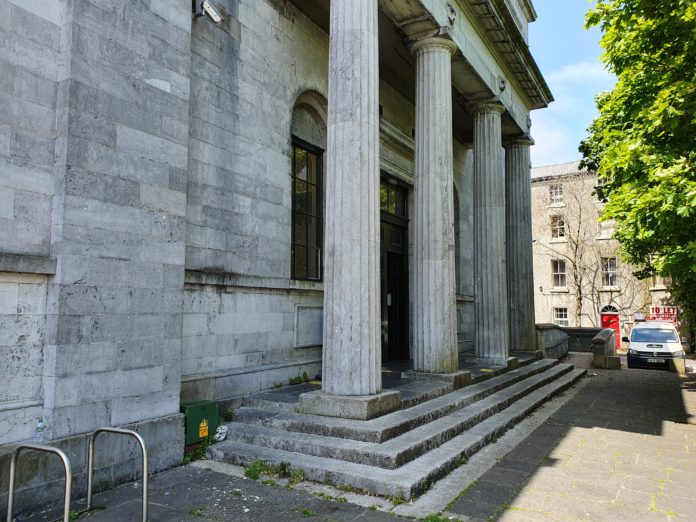 A man received a seven month prison sentence for repeatedly violently threatening Gardaí, one time while in possession of a knife.
Indulis Levans (58), with an address at Tirellan Heights in Galway City was before Galway District Court for multiple incidents where he violently threatened Gardaí, including one while in possession of a knife.
The most serious incident occurred at Millennium Park by Galway Cathedral on March 20 of 2021.
Gardaí received reports from the public about a man brandishing a knife and approaching a group of youths at the park.
When Gardaí arrived they told him to drop the knife, Sgt Rogers told the court, but he instead approached them aggressively.
The court heard that he had to be physically restrained until backup arrived. While being held he made multiple threats to kill the officers.
A knife was found on his person, along with multiple bottles of spirits. Sgt Cathal Rogers, presenting for the state, told the court that Levans was very intoxicated at the time.
In another incident on May 5 of 2020, Gardaí approached a group of extremely drunk men in Eyre Square.
As they were approaching, Mr Levans went up to Garda Nigel Silke and began threatening him.
He said that he was the Garda's boss, and threatened to give him a 'Glasgow Kiss' a headbutt, and shoved him, before being arrested.
At Salthill Garda Station, on February 23 of last year, Mr Levans was extremely drunk in the station's public office shortly after 6am.
He was highly aggressive and banging on the glass, the court heard, and officers had to use pepper spray while restraining him.
Judge Mary Fahy was extremely angry that he went in a park with playground while armed with a knife. "All of this in a public park, meant specifically for children," she said.
She said that she didn't think Mr Levans was taking the matter seriously, describing it as "one of the most serious cases I've come across recently".
"He has treated the Gardaí with utter contempt, continuously threatened them," Judge Fahy said, and reiterated that he was in a park while armed.
Mr Gary McDonald BL, for the defence, said that his client had a serious alcohol problem.
He added that Mr Levans had instructed him that he wanted to plea, and that he was sorry.
Judge Fahy sentenced him to a total of seven months in prison for the obstruction and possession of a knife offences at Millennium Park.
He received concurrent sentences for the various public order offences of public intoxication, and threatening, abusive, or insulting behaviour.
Judge Fahy refused to suspend any portion of the prison sentence. Leave to appeal was granted on Mr Levans' own bond of €300.