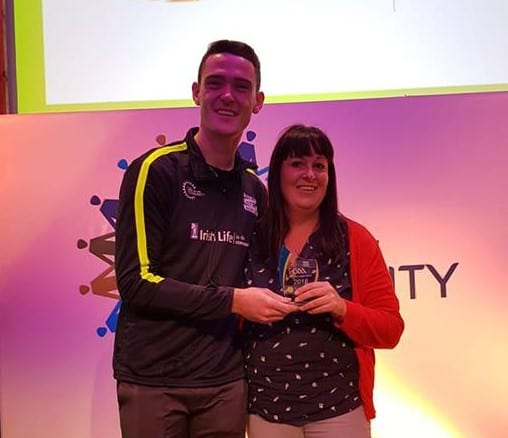 Ballinderreen's Mary Maloney was among the winners at the Healthy Club Conference in Croke Park which saw volunteers honoured for their exceptional efforts in promoting the GAA's Healthy Club Project. 
Mary is the lead member of the Healthy Club and a member of the club executive. Her vision led to her club being the first Galway club to set up the initiative.
Mary is a very active member, heavily involved in all fundraising efforts, and encourages people across all demographics to get involved in the GAA club.
She organises a monthly lunch and bingo game for older members of the locality, as well as a weekly card game and an annual choir concert.
Congratulations to all honoured with the GAA Healthy Club 'Hero Award' at today's National Healthy Club Conference at @CrokePark! Awards were presented by special guest @DubGAAOfficial's Brian Fenton. #GAAHealth pic.twitter.com/xQMxSzf3rh

— The GAA (@officialgaa) October 20, 2018
The Healthy Club Project started in 2014 with just 16 clubs, four from each province, involved. It currently engages 150 clubs, multiples in each county. The project aims to broaden the traditional boundaries of a GAA club, turning clubs into hubs for health in the communities.
It involves a partnership with Healthy Ireland, the National Office for Suicide Prevention, the HSE, and is proudly supported by Irish Life.
Clubs focus on a range of health topics, including healthy eating; mental fitness and emotion wellbeing; physical activity for non-playing members; gambling drug, and alcohol awareness (including becoming smoke-free clubs); engaging older community members; and the provision of games for persons with special needs and those from minority groups, amongst other things.
Participating clubs were asked to nominate their Healthy Club Heroes: someone who has gone above and beyond the call of duty in serving the health and wellbeing needs of their clubs' members and the communities they serve.
Dublin All Ireland winner, All Star, and Player of the Year nominee, Brian Fenton, was on-hand to present the recipients with their awards in Croke Pak on Saturday and Mary's was Galway's representative among 24 winners.