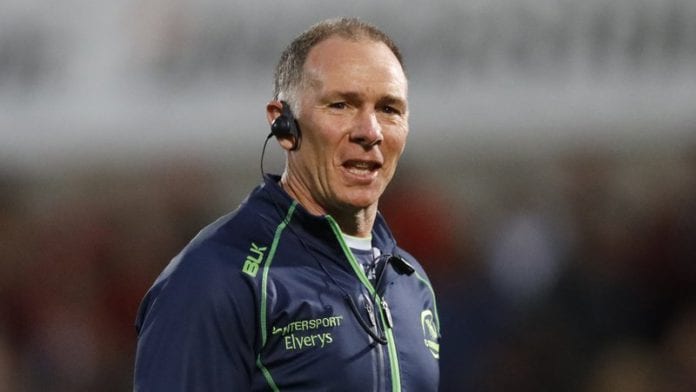 Tackling and taking advantage of any openings Leinster provides will be the key for Connacht in the Guinness PRO14 clash this weekend Andy Friend has said.
Connacht are headed to Dublin this Saturday for the second of the Christmas interprovincial matches, this time against the defencing champions.
Head Coach Andy Friend said that executing the basics properly are essential to any win, and that "first and foremost" they have to get tackling right.
"You have to make sure that when you go in to tackle that your body is in the right position and that you are trying to make the most dominant tackle you can. That's where they get their nose through just slightly and then they're off."
"That's no big secret, there's nothing special to that. Just with every tackle you make, get yourself in the best position to make the most dominant tackle you can."
Connacht's attack strategy will have to be adaptable to and able to take advantage of "key opportunities" when they present themselves Friend said.
Team Captain Jared Butler said that the squad will need to bring an 80-minute performance if they want to be in with a chance of winning.
"We've been over there and played 69 minutes of good footy and not come away with a win," the Australian said.
"And against Ulster, we played well for 40 minutes. It's about consistency, it's about taking the game to Leinster."
"They are a very good team when they have things on their terms and if you're going to let them play and just try and counter everything then you're going to have a hard day at the office."
"Going up there and playing with confidence is going to be really important. Playing on top of them and trying to be aggressive because — like I said — you see so many teams go up there and try and weather the storm, but it's an 80-minute storm if you let it be."
"You got to go there and throw caution to the wind and try things because you know that you can't play conservative. You have to go for it and try things."
"We've lost the last three weeks in a row, so I expect — and so the group as a whole — us to bounce back and bring some energy. If you can't get up for an Interpro versus Leinster then what can you get up for?"
Connacht and Leinster will play this Saturday, with kick-off at 7:30pm.