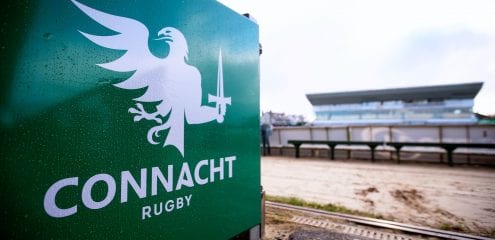 Connacht Rugby lock Cillian Gallagher has announced that he is retiring from Rugby completely due to a long standing should injury.
Gallagher (23) was one of six players it was announced earlier this week who would be leaving Connacht at the end of this season.
After three surgeries to correct a shoulder injury, and consulting with his doctor and the club medical team, he has now decided to retire permanently.
Gallaher came through the Connacht Academy and made his pro debut against Worcester in the 2017-18 Challenge Cup.
In total he made 15 appearances, with the last of those coming against Montpellier in November 2019.
Gallagher released the following statement about his retirement:
It is with deep sadness that I have decided to retire from professional rugby at the end of this coming season. After 3 shoulder surgeries and having discussed it with the Connacht medical staff, shoulder surgeon and my family, I feel this is the best decision for me going forward.
From a young age I dreamed of playing rugby at the highest level and to be able to do this with Connacht, my home province, fills me with pride. Whilst my time there has been cut short I'll never forget the amazing memories made whenever I put on that green jersey.
I'd like to thank all those who helped me to get where I am today; my underage coaches at Sligo RFC and Summerhill College, those at Corinthians RFC and most recently the medical and performance staff at Connacht Rugby who left no stone unturned in the battle to help me return from this injury.
I'd like to thank my teammates, who never failed to put a smile on my face through some of the tough days in the previous few seasons. I leave Connacht Rugby with an abundance of fond memories and, no doubt, friends made for life.
Lastly to my parents, family and my girlfriend. I cannot thank you enough for your support over the last few years. They have been with me on every step of this journey and have shared all the joys of professional rugby with me, along with the seemingly inevitable lows. I hope I have made you all proud.
I now look forward to moving onto the next stage of my life and whatever it may have in store.