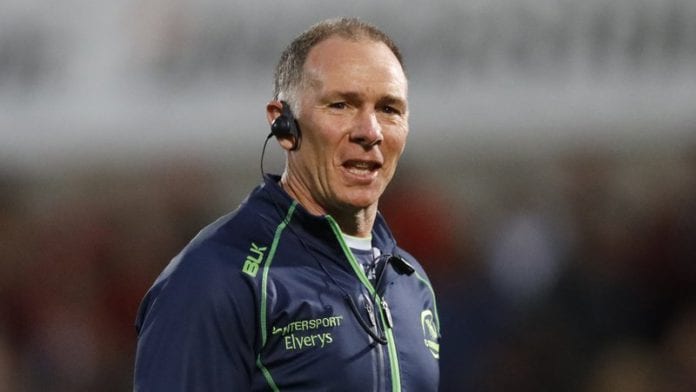 Connacht Rugby's Head Coach Andy Friend is stepping aside after four years, moving into a new role as Director of Rugby with the club.
Friend explained that the move to the new position is focusing on the individuals strengths of everyone in the coaching team.
Pete Wilkins is taking over the role of Head Coach after a year as the Senior Coach, in what is now his 6th season with Connacht.
Speaking ahead of this weekend's game against Ulster, Friend explained that the shift, which includes more shuffling of coaching roles, is about focusing on his strengths; something he had always emphasised to the players.
"For lots of different reasons, I probably went away from that last year. When we got the new coaching structure in last year, we were fitting the coaching structure around the people that we had in it."
"Upon reflection of it, we paused and went 'is that actually our weapon? Is that all of our strengths?' The longer I go with my coaching, I know what my strength is," Andy Friend said.
"My strength is working one-on-one with people. Giving people support and challenging them. To give them an opportunity to try and grow."
He said that the new situation, with him as Director of Rugby working alongside four coaches, has seen a positive reaction that will pay dividends going forwards.
"I moved into a Director of Rugby role and I did that knowing that I've got four really good coaches alongside me, who I need to open up space to."
"It was just sitting down saying 'you know what, we did this for a reason last year. We can be better again if we all just zone in on what we're really good at".
Other changes to the coaching squad sees Mossy Lawler taking primary responsibility for Attack & Skills, after assisting Wilkins in attack last season.
With Wilkins focussing more on defence, Colm Tucker is now coaching the scrum & contact skills. Forwards coach Dewald Senekal remains responsible for the lineout and maul.
With Connacht playing Challenge Cup rugby this year, the Director of Rugby says the squad have a simple aim for both competitions.
"It's simple, we want to make the play-offs in both, that's our target. URC has to be our bread and butter because if we can make URC play-offs we know we are in Champions Cup next year.
"That's a challenge that we get into, that's the competition that we want to get into. We weren't successful last year in getting into that so we want to make sure we make the play-offs of the URC."
"And if we can go further than that we will wait until we get to that time, we can discuss that. That is just the minimum there."