It's very easy get on internet sites, forums and blogs to criticise but writers also have a responsibility to acknowledge when work is carried out at a high standard and praise the efforts of volunteers. 
There's no secret we've been critical of Galway Ladies Football in the past for not giving club players the recognition they deserve but they produced a memorable day last Saturday (6th October).
For the first time ever, west Galway hosted the County Senior and Intermediate Ladies Football Finals and Moycullen ensured all four teams would remember this day.
I was in Menlough in 2017 on a day when the three key local finals (including Junior A) were played at the same time in three different venues.  The senior final had no scoreboard, no neutral linespeople and would have been passed off as a challenge match by anyone walking in from the street.
https://www.facebook.com/105286606178852/photos/pcb.2386359968071493/2386358838071606/?type=3&theater
When I arrived in Moycullen around 12.20pm on Saturday, there was no way you could mistake that this was a big day.  Match programmes upon arrival, young children in club gear watching the adult teams warming up in the nearby pitch and a man playing Bagpipes!
Yes!  I'd only seen this before in the mini All-Irelands in Ballinasloe but it does add to the festivities.  Add in a press box, parades and a wonderful rendition of Amhran na bhFiann from Aimee Banks and a special day in the Ladies Football calendar was set up.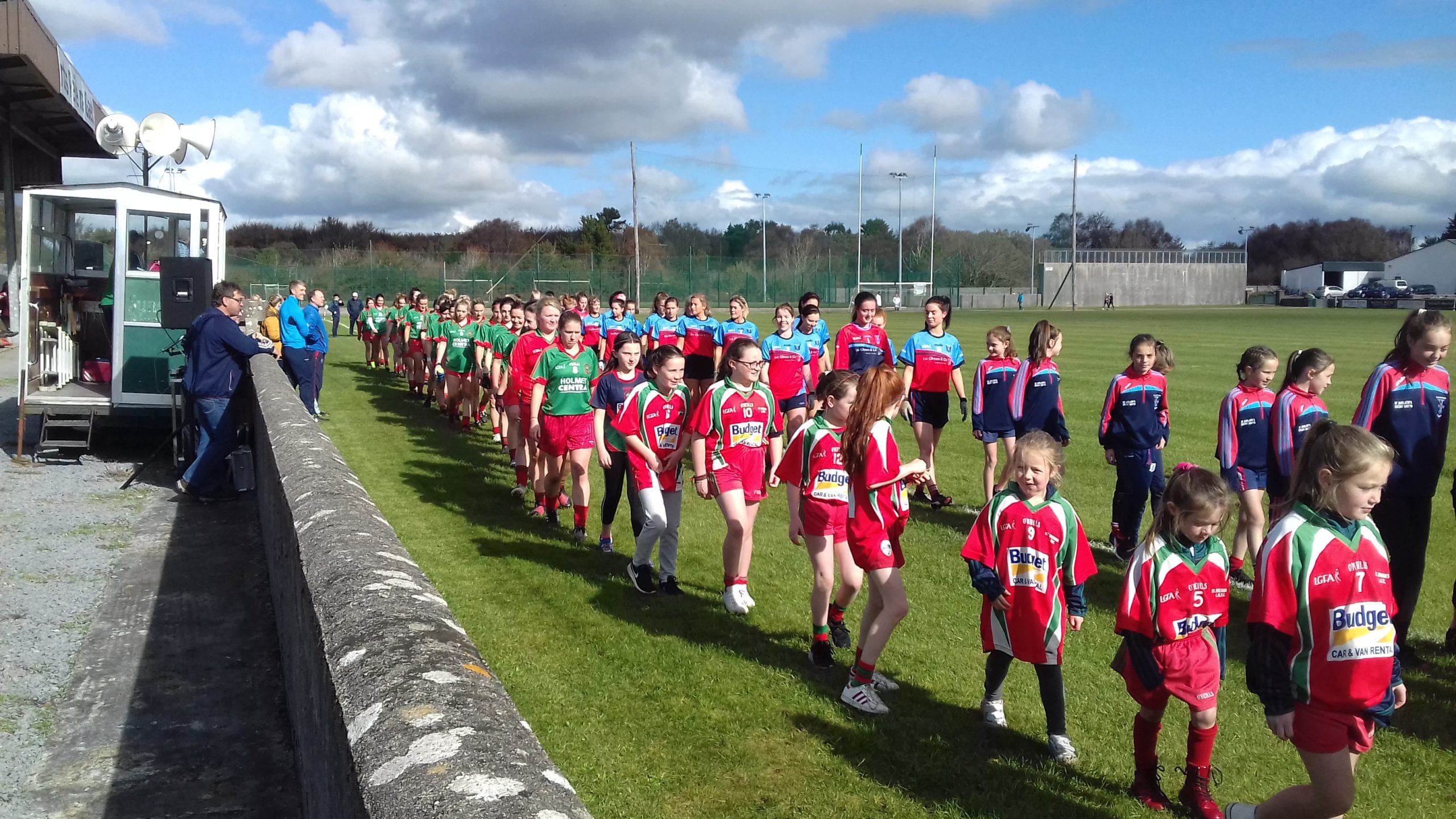 Nerves probably played a part in the low scoring nature of the intermediate decider as St. Brendan's and Tuam/Cortoon played out a 2-3 to 1-6 draw.  Confusion reigned briefly at the finish when the referee blew the final whistle but neutrals left curious about what the rematch would entail.
And while it was a day to forget for Corofin, defending champions Kilkerrin/Clonberne provided a performance worthy of any final with arguably their best result in their six years of dominance.
Only two points separated these teams in the 2017 final and both endured shaky moments in their semi-final hurdles.  But when Olivia Divilly and Lynsey Noone struck goals inside the opening three minutes, Kilkerrin/Clonberne were preparing an exhibition.
Corofin didn't roll over and replied through a Leanne Coen goal and the same player was unlucky to see a second shot rattle the crossbar.  But when the red and white double act attacked again, they served up a double special to ensure their crown remained intact.
Noone came in from the left before placing the ball into the net's far corner past Dearbhla Gower.  And Divilly decided to top that, calmly kicking from distance over opposing defenders before seeing her effort drop underneath the crossbar.
They'd three more goals in the second half and Corofin also got two.  This rivalry isn't over and Brian O'Donovan's charges will be chomping at the bit when 2019 comes around.  But Kilkerrin/Clonberne's focus is on Kilbride before hopefully turning their attention to this year's noisy neighbours.
Galway Ladies Football, Moycullen Ladies Football and Moycullen GAA delivered a spectacle and an occasion.  I'm sure some of the players found the novelty of a pre-match parade amusing.  But they deserved to be showcased and getting used to days like this will make the Tribeswomen stronger.
Well done to everyone involved and I must signal out Padraig Davoren and all involved for what was achieved.  There'll be plenty of venues wanting this gig next year.  But Moycullen have raised the bar!  And they raised it brilliantly!