The second round of twitter voting concluded in the early hours of Wednesday morning (30th May) in our competition to select 'Galway's Greatest Ladies Footballer' and the 32 still standing were reduced to just 12 players. 
For the second time in succession, Annette Clarke topped the poll scoring a strong 70%.  Current Galway captain Tracey Leonard moved to second on 61% followed by Caitriona Cormican (49%) and Fabienne Cooney (43%).
The top player from each of the eight quarter-final polls qualified for the semi-finals along with the four best runners-up.  Roisin Leonard (33%), Geraldine Conneally (32%) and Olivia Divilly (30%) were among the qualifying runners-up with Aine Seoighe (29%) and Lorna Joyce (28%) just missing out.
There was no need for the adjudication committee to make any decisions in Match 8.  Edel Concannon and Emer Flaherty finished joint first on 41% but both qualified anyway with the score good enough to send a runner-up through.
The semi-finals, which start this morning (Wednesday) will see the remaining participants in three groups of four.  The three winners will advance to Thursday's final along with the best runner-up.
Some big names to depart after the quarter-finals included Niamh Duggan, Seoighe, Lorna and Gillian Joyce, Nicola Ward and Una Carroll.
The semi-final pairings will appear below shortly after the quarter-final results and the polls will stay open for 15 hours.  The FINAL takes place on Thursday.
All You Need to do is go to our Twitter page and select your favourite player in each group.  Please LIKE and SHARE!
ANNETTE CLARKE – 70%, Niamh Duggan – 11%, Lorna Hannon – 11%, Barbara Hannon – 8%
2. CAITRIONA CORMICAN – 49%, GERALDINE CONNEALLY – 32%, Aine McDonagh – 10%, Ann Marie McDonagh – 9%
3. SINEAD BURKE – 38%, Lorna Joyce – 28%, Gillian Joyce – 21%, Ruth Stephens – 13%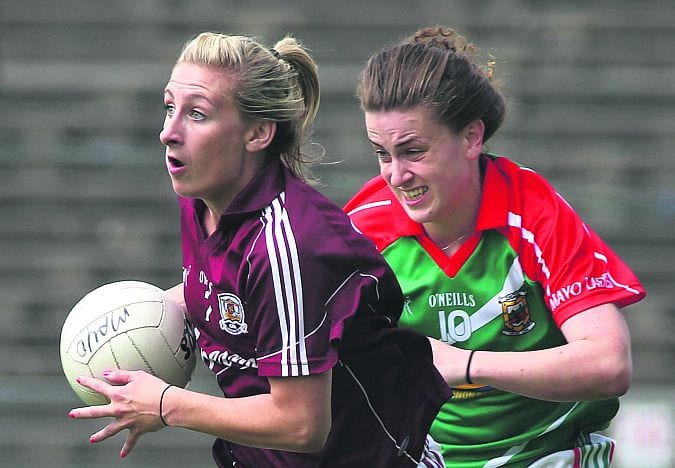 4. LOUISE WARD – 37%, OLIVIA DIVILLY – 30%, Lisa Cohill – 26%, Michelle Delaney – 7%
5. FABIENNE COONEY – 43%, ROISIN LEONARD – 33%, Sarah Gormally – 17%, Johanna Connolly – 7%
6. NIAMH FAHEY – 34%, Aine Seoighe – 29%, Marie O'Connell – 23%, Theresa Rafferty – 14%
7. TRACEY LEONARD – 61%, Nicola Ward – 17%, Sarah Conneally – 12%, Noelle Connolly – 10%
8. EDEL CONCANNON – 41%, EMER FLAHERTY – 41%, Mairead Seoighe – 11%, Una Carroll – 7%
GALWAYS GREATEST LADIES FOOTBALLER – SEMI-FINALS!!!

SF: MATCH #1 of 3

Which of these would you consider to be Galway's Greatest Ladies Footballer and deserving of a place in the FINAL. The top player guaranteed to advance.@GalwayLgfa @LadiesFootball #galwaysgreatest

— Galway Daily (@GalwayDaily) May 30, 2018
GALWAYS GREATEST LADIES FOOTBALLER – SEMI-FINALS!!!

SF: MATCH #2 of 3

Which of these would you consider to be Galway's Greatest Ladies Footballer and deserving of a place in the FINAL. The top player guaranteed to advance.@GalwayLgfa @LadiesFootball #galwaysgreatest

— Galway Daily (@GalwayDaily) May 30, 2018
GALWAYS GREATEST LADIES FOOTBALLER – SEMI-FINALS!!!

SF: MATCH #3 of 3

Which of these would you consider to be Galway's Greatest Ladies Footballer and deserving of a place in the FINAL. The top player guaranteed to advance.@GalwayLgfa @LadiesFootball #galwaysgreatest

— Galway Daily (@GalwayDaily) May 30, 2018