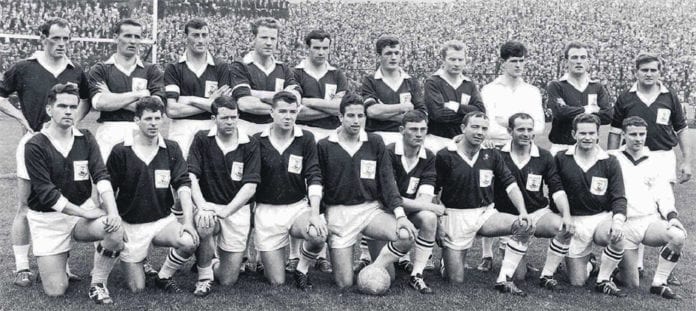 While the debate continues over the hurling selections, we have decided to do it all again and ask our followers to help us decider who is 'Galway's Greatest Footballer.' 
We decided to keep it to 108 entrants again using the same format to the hurling.  But even we didn't realise the calibre of names we'd be leaving out.  However, we do hope that we covered all the bases regarding serious contenders for the overall title.
There are two special teams that will have a big say on this.  The 1960s produced the three-in-a-row teams captained by John Donnellan and Enda Colleran.  And they included many great players including Johnny Geraghty, Martin Newell and four-time All-Ireland winner Mattie McDonagh.
Then there was the millennium class who won All-Irelands in 1998 and 2001.  Padraic Joyce, Michael Donnellan, Jarlath Fallon, Kevin Walsh, Tomas Mannion, Sean Og De Paor, Martin McNamara, Ray Silke, Gary Fahey – the list is endless!
And outside of these teams, there's plenty of quality.  Many have considered Sean Purcell to be the best ever in the country and his partnership with Frank Stockwell is legendary around Tuam.  Val Daly was highly rated among the greats to wear the maroon and white during the 1980s as was Michael Meehan in the 2000s.
So, how are we going to work this out?  Galway Daily's 108 players to be reduced to the final four over as many days and we will have four rounds of 18-hour twitter polls to decide the overall winner.
Our format for selecting was (1) 2017 starting team, (2) All-Stars, (3) All-Ireland winners, (4) League Winners, (5) Wild Cards until we got past the 100 mark.  There's no fool proof method in picking the starting line-up but we hope we've all our angles covered.
Round One will consist of 27 groups of four players with 56 qualifying (top two in each group plus two best third placed players based on percentage gained).  Any ties will be decided by the Galway Daily adjudicating panel.
Round Two on Tuesday will see 14 groups of four players with 16 advancing (the winners and two best runners-up).
Round Three on Wednesday will have four groups of four with the winners advancing to Thursday's final.  A random draw has sorted the opening day polls but the percentage gained will see the participants in the subsequent rounds.
So, it's simple!  Go on to our Twitter page and vote for your favourite.  We'd hope you would like our page as well.  And follow our reports every day until we learn who the Galway Daily followers have decided is Galway's Greatest Footballer.
GALWAYS GREATEST FOOTBALLER BEGINS!!!

Round 1: MATCH #1 of 27

Which of these players would you consider to be Galway's Greatest Footballer and deserving of a place in the next round. The top two guaranteed to advance.@TribesmenGAA #galwaysgreatest

— Galway Daily (@GalwayDaily) May 21, 2018
GALWAYS GREATEST FOOTBALLER BEGINS!!!

Round 1: MATCH #2 of 27

Which of these players would you consider to be Galway's Greatest Footballer and deserving of a place in the next round. The top two guaranteed to advance.@TribesmenGAA #galwaysgreatest

— Galway Daily (@GalwayDaily) May 21, 2018
GALWAYS GREATEST FOOTBALLER BEGINS!!!

Round 1: MATCH #3 of 27

Which of these players would you consider to be Galway's Greatest Footballer and deserving of a place in the next round. The top two guaranteed to advance.@TribesmenGAA #galwaysgreatest

— Galway Daily (@GalwayDaily) May 21, 2018
GALWAYS GREATEST FOOTBALLER BEGINS!!!

Round 1: MATCH #4 of 27

Which of these players would you consider to be Galway's Greatest Footballer and deserving of a place in the next round. The top two guaranteed to advance.@TribesmenGAA #galwaysgreatest

— Galway Daily (@GalwayDaily) May 21, 2018
GALWAYS GREATEST FOOTBALLER BEGINS!!!

Round 1: MATCH #5 of 27

Which of these players would you consider to be Galway's Greatest Footballer and deserving of a place in the next round. The top two guaranteed to advance.@TribesmenGAA #galwaysgreatest

— Galway Daily (@GalwayDaily) May 21, 2018
GALWAYS GREATEST FOOTBALLER BEGINS!!!

Round 1: MATCH #6 of 27

Which of these players would you consider to be Galway's Greatest Footballer and deserving of a place in the next round. The top two guaranteed to advance.@TribesmenGAA #galwaysgreatest

— Galway Daily (@GalwayDaily) May 21, 2018
GALWAYS GREATEST FOOTBALLER BEGINS!!!

Round 1: MATCH #7 of 27

Which of these players would you consider to be Galway's Greatest Footballer and deserving of a place in the next round. The top two guaranteed to advance.@TribesmenGAA #galwaysgreatest

— Galway Daily (@GalwayDaily) May 21, 2018
GALWAYS GREATEST FOOTBALLER BEGINS!!!

Round 1: MATCH #8 of 27

Which of these players would you consider to be Galway's Greatest Footballer and deserving of a place in the next round. The top two guaranteed to advance.@TribesmenGAA #galwaysgreatest

— Galway Daily (@GalwayDaily) May 21, 2018
GALWAYS GREATEST FOOTBALLER BEGINS!!!

Round 1: MATCH #9 of 27

Which of these players would you consider to be Galway's Greatest Footballer and deserving of a place in the next round. The top two guaranteed to advance.@TribesmenGAA #galwaysgreatest

— Galway Daily (@GalwayDaily) May 21, 2018
GALWAYS GREATEST FOOTBALLER BEGINS!!!

Round 1: MATCH #10 of 27

Which of these players would you consider to be Galway's Greatest Footballer and deserving of a place in the next round. The top two guaranteed to advance.@TribesmenGAA #galwaysgreatest

— Galway Daily (@GalwayDaily) May 21, 2018
GALWAYS GREATEST FOOTBALLER BEGINS!!!

Round 1: MATCH #11 of 27

Which of these players would you consider to be Galway's Greatest Footballer and deserving of a place in the next round. The top two guaranteed to advance.@TribesmenGAA #galwaysgreatest

— Galway Daily (@GalwayDaily) May 21, 2018
GALWAYS GREATEST FOOTBALLER BEGINS!!!

Round 1: MATCH #12 of 27

Which of these players would you consider to be Galway's Greatest Footballer and deserving of a place in the next round. The top two guaranteed to advance.@TribesmenGAA #galwaysgreatest

— Galway Daily (@GalwayDaily) May 21, 2018
GALWAYS GREATEST FOOTBALLER BEGINS!!!

Round 1: MATCH #13 of 27

Which of these players would you consider to be Galway's Greatest Footballer and deserving of a place in the next round. The top two guaranteed to advance.@TribesmenGAA #galwaysgreatest

— Galway Daily (@GalwayDaily) May 21, 2018
GALWAYS GREATEST FOOTBALLER BEGINS!!!

Round 1: MATCH #14 of 27

Which of these players would you consider to be Galway's Greatest Footballer and deserving of a place in the next round. The top two guaranteed to advance.@TribesmenGAA #galwaysgreatest

— Galway Daily (@GalwayDaily) May 21, 2018
GALWAYS GREATEST FOOTBALLER BEGINS!!!

Round 1: MATCH #15 of 27

Which of these players would you consider to be Galway's Greatest Footballer and deserving of a place in the next round. The top two guaranteed to advance.@TribesmenGAA #galwaysgreatest

— Galway Daily (@GalwayDaily) May 21, 2018
GALWAYS GREATEST FOOTBALLER BEGINS!!!

Round 1: MATCH #16 of 27

Which of these players would you consider to be Galway's Greatest Footballer and deserving of a place in the next round. The top two guaranteed to advance.@TribesmenGAA #galwaysgreatest

— Galway Daily (@GalwayDaily) May 21, 2018
GALWAYS GREATEST FOOTBALLER BEGINS!!!

Round 1: MATCH #17 of 27

Which of these players would you consider to be Galway's Greatest Footballer and deserving of a place in the next round. The top two guaranteed to advance.@TribesmenGAA #galwaysgreatest

— Galway Daily (@GalwayDaily) May 21, 2018
GALWAYS GREATEST FOOTBALLER BEGINS!!!

Round 1: MATCH #18 of 27

Which of these players would you consider to be Galway's Greatest Footballer and deserving of a place in the next round. The top two guaranteed to advance.@TribesmenGAA #galwaysgreatest

— Galway Daily (@GalwayDaily) May 21, 2018
GALWAYS GREATEST FOOTBALLER BEGINS!!!

Round 1: MATCH #19 of 27

Which of these players would you consider to be Galway's Greatest Footballer and deserving of a place in the next round. The top two guaranteed to advance.@TribesmenGAA #galwaysgreatest

— Galway Daily (@GalwayDaily) May 21, 2018
GALWAYS GREATEST FOOTBALLER BEGINS!!!

Round 1: MATCH #20 of 27

Which of these players would you consider to be Galway's Greatest Footballer and deserving of a place in the next round. The top two guaranteed to advance.@TribesmenGAA #galwaysgreatest

— Galway Daily (@GalwayDaily) May 21, 2018
GALWAYS GREATEST FOOTBALLER BEGINS!!!

Round 1: MATCH #21 of 27

Which of these players would you consider to be Galway's Greatest Footballer and deserving of a place in the next round. The top two guaranteed to advance.@TribesmenGAA #galwaysgreatest

— Galway Daily (@GalwayDaily) May 21, 2018
GALWAYS GREATEST FOOTBALLER BEGINS!!!

Round 1: MATCH #22 of 27

Which of these players would you consider to be Galway's Greatest Footballer and deserving of a place in the next round. The top two guaranteed to advance.@TribesmenGAA #galwaysgreatest

— Galway Daily (@GalwayDaily) May 21, 2018
GALWAYS GREATEST FOOTBALLER BEGINS!!!

Round 1: MATCH #23 of 27

Which of these players would you consider to be Galway's Greatest Footballer and deserving of a place in the next round. The top two guaranteed to advance.@TribesmenGAA #galwaysgreatest

— Galway Daily (@GalwayDaily) May 21, 2018
GALWAYS GREATEST FOOTBALLER BEGINS!!!

Round 1: MATCH #24 of 27

Which of these players would you consider to be Galway's Greatest Footballer and deserving of a place in the next round. The top two guaranteed to advance.@TribesmenGAA #galwaysgreatest

— Galway Daily (@GalwayDaily) May 21, 2018
GALWAYS GREATEST FOOTBALLER BEGINS!!!

Round 1: MATCH #25 of 27

Which of these players would you consider to be Galway's Greatest Footballer and deserving of a place in the next round. The top two guaranteed to advance.@TribesmenGAA #galwaysgreatest

— Galway Daily (@GalwayDaily) May 21, 2018
GALWAYS GREATEST FOOTBALLER BEGINS!!!

Round 1: MATCH #26 of 27

Which of these players would you consider to be Galway's Greatest Footballer and deserving of a place in the next round. The top two guaranteed to advance.@TribesmenGAA #galwaysgreatest

— Galway Daily (@GalwayDaily) May 21, 2018
GALWAYS GREATEST FOOTBALLER BEGINS!!!

Round 1: MATCH #27 of 27

Which of these players would you consider to be Galway's Greatest Footballer and deserving of a place in the next round. The top two guaranteed to advance.@TribesmenGAA #galwaysgreatest

— Galway Daily (@GalwayDaily) May 21, 2018