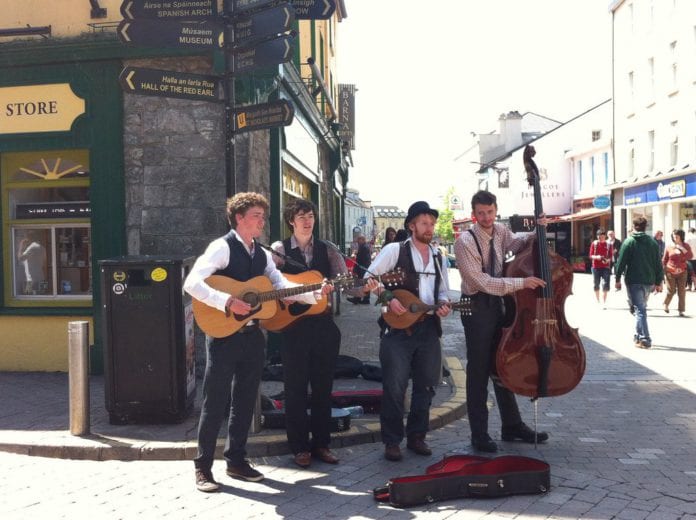 The Galway Daily editorial staff has decided to take a stand against the busking bylaws proposed by Galway City Council.
To be clear, we are not opposed to regulating the buskers in some way.
But we believe these bylaws as drafted will do more harm than good.
In our opinion, they would either be unenforceable, or they would make Shop Street into a cultural desert, eliminating the reason the Latin Quarter is loved by tourists and Galwegians alike.
First, let's take a serious look at why these laws came about.
We recently saw a list of members of the Galway City Business Association – a major supporter of the bylaws – and we, like many of our readers, were shocked.
What surprised us most was the length of the list and the fact that many of the businesses on it are much-loved and well-respected establishments.
Clearly busking is more of a problem than we thought.
Why the bylaws have support
How many of us love and support Galway buskers?
Public submissions on last year's draft laws show that the vast majority of Galwegians don't want to see busking gone from Shop Street.
Yet how many of us – as pedestrians – avoid Shop Street like the plague in the summer months?
If you are trying to get somewhere on time, get something done, or even just enjoy a stroll, it's impassable.
Shop Street is crammed with more and more tourists every year, and if they're moving at all they tend to exclaim over every cobblestone (bless them).
Now imagine if you weren't a pedestrian but a brick-and-mortar establishment. You can't avoid Shop Street if you're there 24/7.
And it's not just the crowds, which only become a problem if the performer is good.
Once you hear one tuneless amateur rendition of Raglan Road, it would be torture to hear it again, and again, and again – especially if the performer only knows two other songs.
Pedestrians can simply move on, but that is not an option for the businesses and their employees.
Imagine constantly trying to keep your doorway clear or trying to shout to a customer above someone moaning about letting their grief be a falling leaf for the twelfth time that hour.
Suddenly the support for the bylaws among Shop Street and other city centre businesses becomes far more understandable.
Why the bylaws aren't a good idea
While we understand the desire to make Shop Street more livable for the businesses (and people!) that actually live there, these bylaws are not the right way to do that.
Take a look at the draft laws yourselves if you don't believe us.
For one thing, they would severely limit most buskers on Shop Street.
There would be a blanket ban on drum kits, which would outlaw hugely popular groups like Galway Street Club and Keywest, who made their names on our streets.
And any amplification or backing tracks would be forbidden on Shop Street until 6pm.
This means that – since buskers are only allowed until 10 or 11pm – there would be only four or five hours for most of Galway's buskers to play, and competition for the handful of spots along Shop Street would be fierce.
Beloved Galway dancer Emma O'Sullivan, who uses an unobtrusive backing track for her dancing, has noted that she would be banned under the new rules on circle acts.
The bylaws also forbid any action, speech or song that might offend any member of the public.
While this law would likely be used sparingly, it smacks of unconstitutional police-state censorship – and who gets to decide what's offensive?
If Galway City were serious about enforcing these laws, then almost any song, poem, or monologue could be taboo.
The new regulations also demand that buskers immediately stop a performance once a crowd has gathered.
But again, how could this possibly be enforced?
Buskers would have to stop playing just when the going gets good, or risk paying a hefty fine.
So either they ruin the atmosphere or they (potentially) lose all their earnings. It's a no-win scenario for them.
In practice, then, these bylaws would be either not enforced (and therefore pointless), enforced only sometimes or only for some people (i.e. unfairly), or enforced all the time – which would cause buskers to leave Galway in droves.
Let's not even mention the potential drain on resources for the gardaí and the already-backlogged courts that serious enforcement could entail.
Convergence
Are there any other solutions?
Well, yes. The GCBA and the city council could sit down with the buskers to hammer out better regulations.
The buskers already have a Code of Conduct that helps them self-regulate – but if this isn't working, it would be good for city centre businesses to have some legal recourse.
And most buskers recognise this.
They're very willing to discuss how best to regulate busking – especially if the only other option would drive them out of the city.
Niceol Blue of the Galway Buskers Community has said that Galway's buskers would "happily" engage with lawmakers and businesses.
"We want to be a part of the process this time," she said.
Businesses draw shoppers into town, and unlike buskers they have to pay rent, utilities, and tax – so it's no wonder they might begrudge the performers their place.
But Galway's buskers are a massive draw.
In fact, the phrase mentioned most often on Tripadvisor reviews of city centre attractions is "street performers".
They not only add to the vibrant atmosphere of the Latin Quarter, they pretty much make it.
And they also contribute economically by bringing in foot traffic and expanding Galway's reputation as a cultural hub.
So while businesses attract shoppers who become audiences for street performers, the performers likewise draw in tourists and other happy wanderers who become customers in the shops.
Both the shops and the buskers are necessary to keep the city we love as prosperous and pleasant as possible.
All stakeholders – including the buskers themselves – should therefore have a say in the bylaws that would regulate them, to make sure they work for everyone.
Let's try it again until we get it right.
WATCH: A video homage to Galway's buskers