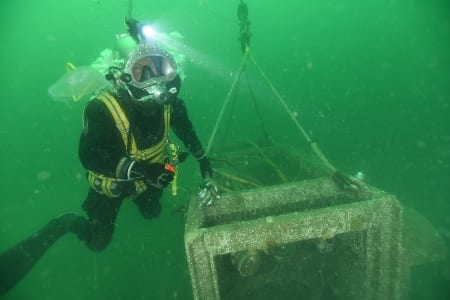 The Marine Institute's SmartBay underwater observatory has come ashore this week for essential maintenance of its instruments.
The underwater observatory has spent the past 15 months monitoring the marine environment 1.5km off the coast of Spiddal in Galway Bay.
Over the next month all of its instruments will be replaced to ensure they perform to the highest possible standard when spending long periods of time submerged.
New lights will also be installed on the observatory to improve the quality of the footage captured by its cameras.
"We also plan to install a micro-plastics sampling net and a new underwater stills camera in partnership with European marine science researchers," explained Alan Berry, coastal engineer with the Marine Institute.
An extensive array of cameras, sensors and other scientific instruments allow researchers at the Marine Institute to make real-time observations of any changes in the local environment.
Information gathered by the SmartBay observatory is transmitted to the Marine Institute's headquarters at Rinville West, Oranmore through a fibre optic cable that runs along the floor of the bay and then uploaded to the internet to be shared with researchers in Europe and around the world.
It gathers a wide range of different data sets for researchers to pour over including a live video stream, the depth of the observatory node, the sea temperature and salinity, and estimates of the chlorophyll and turbidity levels which help estimate the volume of particles such as sediment or plankton in the water.
The underwater observatory was brought ashore on Friday after diver Mark Kerrigan with Ocean Crest Marine prepped it for recovery earlier in the week.
The next round of research projects the observatory is gathering data for is scheduled to begin in mid-July, when it will be re-submerged in Galway Bay.
According to the Marine Institute, the SmartBay observatory is an important contribution by Ireland to a growing global network of system giving us new insights into the ocean.
Photos – Nick Pfeiffer, MERC Environmental