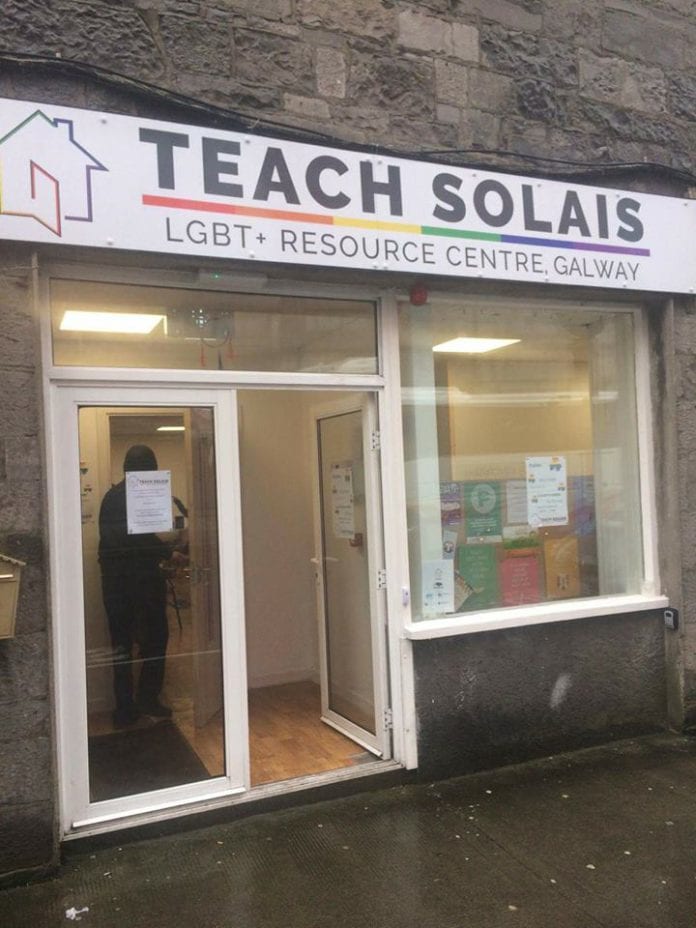 Teach Solais LGBT+ resource centre in Galway City is closing its door permanently at the end of this month due to long standing funding issues.
The lease for the existing Teach Solais at Victoria Place in Galway City expires on August 31, and AMACH LGBT Galway has said that they do not have the means to continue financing this space.
While charities across the country have been suffering during the COVID-19 crisis, Teach Solais has been suffering from financial woes for considerably longer.
Last year Teach Solais came close to having to close its doors, and was only able to go past last November due to crowdfunding efforts to save the important community space and resource for the LGBT+ community in Galway.
The problem has not just been short term issues caused by COVID-19, AMACH has said, but a lack of "sustainable funding and government support" for the centre.
"Without sustainable funding and government support we do not have the means to continue to finance the space we currently occupy and sadly, we are not in a position to extend our time in this venue."
"This has not been an easy conclusion to come to and we struggled immensely with this decision but we must focus on the future and continue to work hard for our community with the resources we currently have."
There was an outpouring of sympathy on social media, with many commenting on the support that Teach Solais had provided that made them feel safer and more welcomed in Galway.
City Councillor Owen Hanley said that this was "heartbreaking" news, especially after staff and supported worked so hard to keep the centre open.
Heartbreaking news in Galway that the LGBT+ resource centre Teach Solais has to close. @TeachSolaisLGBT have worked so hard to keep the place up and running but without sustainable funding for the centre this was inevitable. The dream of our own dedicated LGBT+ centre carries on. pic.twitter.com/W9WVLS0z4H

— Cllr. Owen Hanley (@OwenHanleyLives) August 28, 2020
However, AMACH is currently in the process of moving to Westside Resource Centre, where the groups hopes to have a "smooth transition" while looking for a permanent home.
"We understand that this is a big, and maybe unexpected, change and not one that we wanted to have to make but this is going to give us breathing room to develop a key strategic plan for our organization.
"Rest assured we will continue our work to develop a sustainable LGBT+ resource centre in Galway City," a statement from AMACH said.
"We want to thank everyone who has supported us and visited the centre over the years.
"The support of our community and the wider community in Galway means the world to us and we look forward to continuing our work building a safe, happy and supportive environment for LGBTQ+ people in Galway and the West of Ireland."