The Marine Institute's new state of the art research vessel has made a splash with its first launch to the waters it will soon be studying.
The RV Tom Crean was launched at Astilleros Armon shipyard in Vigo, Spain last Friday, two years after it was first chose for the project,
The Tom Crean was commissioned to replace the 24 year old Celtic Voyager, and when it is ready for use will carry out research for the Oranmore based Marine Institute alongside its sister ship, the Celtic Explorer.
The launch of the hull is a significant milestone in the build process, with the vessel on schedule to be completed in summer 2022.
The Department of Agriculture, Food and the Marine allocated €25 million for the construction of the Tom Crean to ensure that the Marine Institute is kept with up to date equipment in its studies of Irish waters.
Minister Charlie McConalogue said that he was pleased with this "significant milestone" in the construction of the new ship.
"This new research vessel will be an important infrastructural tool in acquiring data and information supporting the sustainable management and development of Irelands valuable marine resource."
At 52.8m the Tom Crean will be almost twice the size of the Celtic Voyager it is replacing, but still the smaller of the Marine Institute's two ships compared with the 65.5m Celtic Voyager.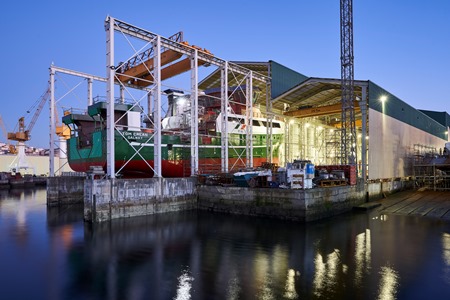 The ship is named for the renowned Irish seaman and explorer who took part in multiple expeditions to the Antarctic, including the tragic Scott expedition in 1910, and Ernest Shackleton's expedition during WW1.
Michael Gillooly, Interim CEO of the Marine Institute said that, when completed, this "modern, multipurpose vessel" will be able to carry out a wide array of research activities.
These will include fisheries surveys, seabed mapping, climate change related research, environmental monitoring, deep water surveys, and Atlantic research.
"The RV Tom Crean will enable the Marine Institute to continue to lead and support vital scientific surveys that contribute to Ireland's position as a leader in marine science."
Based in Galway, the vessel will be used by the Marine Institute, other state agencies and universities to undertake multidisciplinary surveys. It will also maintain and deploy weather buoys, observational infrastructure and our Remotely Operated Vehicle (ROV) Holland I.