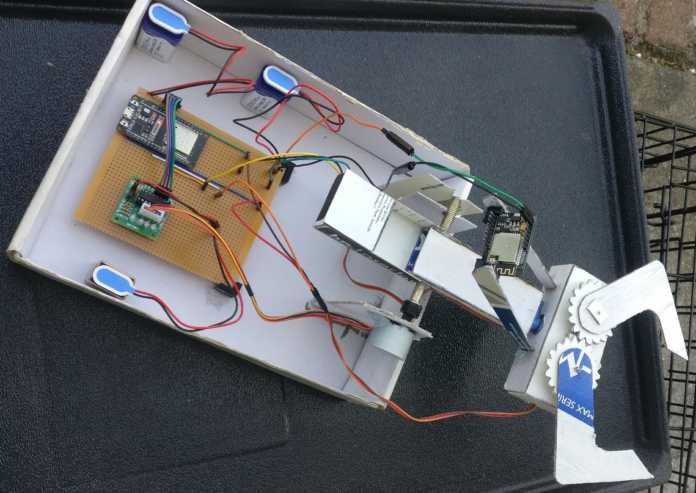 A GMIT student's remote controlled robot arm won the joint first place in this year's National Midas Third Level Electronic Project Competition.
Ruairi Doherty from Creagh, Ballinasloe, built the Remote-Robot, a wireless, hand-gesture controlled robot arm, that is designed to be operated with precision using a glove, in areas where human contact should be avoided.
The initial application of the robot arm was for situations such as bomb disposal, radioactive environments or natural disaster relief. However, with the emergence of COVID-19 new applications for the project became apparent.
It could be used as an aid for people who are elderly, vulnerable, or have mobility issues, for example, if people call to the door to drop off some items such as shopping or a delivery, the Remote-Robot could be used to collect the items whilst avoiding contact." Explains Ruairi.
The machine could also help people who are sick or immobile with simple tasks, he says, such as retrieving medicine from a bedside locker, turning a light on or off, or opening and closing a door.
The robot arm is controlled by wireless peer-to-peer communication protocol, similar to what you might find when using a wireless mouse, with a range of up to 200m.
"This means that it could provide assistance to vulnerable people in a safe manner, by avoiding any human-to-human contact. The Remote-Robot also has a camera attached to it so the user can view a livestream via a web-server."
Ruairi completed the B. Eng (Hons) in Software & Electronic Engineering at GMIT this year (2020) and is now employed by Microchip Technology Inc.
Lecturer and supervisor Paul Lennon paid tribute to Ruairi for his hard work and dedication, "Well done Ruairi, a fantastic result and an inspiration for all GMIT students."
"To compete and win against the best of the Irish Universities and IoTs, demonstrates how your hard work and belief in your own abilities can produce great results."
MIDAS Ireland is an industry led cluster consisting of industry, educational, research and government agencies, working together to assist in the development of the electronics based systems sector in Ireland.
The annual MIDAS competition, open to all third level students studying electrical, electronic or microelectronic engineering, is meant to foster that spirit.
There were 24 entries in total to the 3rd Level MIDAS Electronic Project Competition, sponsored by Analog Devices. The winners were each awarded €1,000 cash prize.