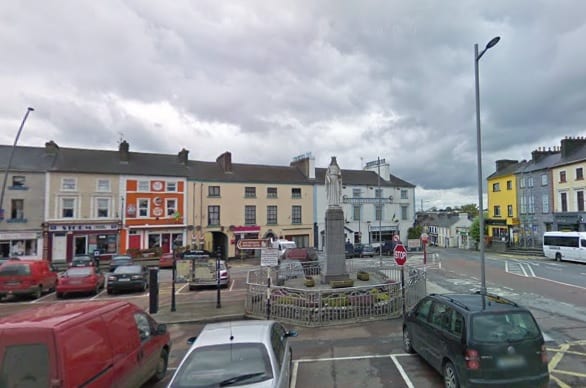 Plans have been submitted to overhaul the Christ the King monument in Gort market square.
The Burren Lowlands GLG are seeking planning permission for renovations to the base of the Christ the King monument, which is a protected structure.
First erected in 1930, the freestanding marble statue was commissioned by local businesswoman Anne Coen from the sculptor Albert Power after she lost her son Matty.
The base was designed by Thomas Cullen with "crisp Celtic interlace and Gaelic lettering demonstrate the burgeoning interest in national identity in the early days of the State."
According to the planning application the base, capped with a limstone plinth, is showing its age and is in need of renovation.
It is proposed that parts of the octagonal base and limestone plinth will need to be replaced, and others refurbished.
Other works proposed to enhance this public monument include installing cut limestone seating and planters on each of the eight sides of the base and paving the area.
A rockery with heather planted in dry granite has become an "eyesore" according the application, and would be removed.
While the wrought iron railing that surrounds the monument would be moved to Gort Inse Guaire River Walk to help rejuvenate the area around the recently rediscovered Holy Well.
Acknowledging receipt of the planning application, the county council said that it doesn't object to the plans provided that there are appropriate traffic and safety arrangements in place, and the plans meet the approval of the county conservation officer.
Burren Lowlands CLG have said they've consulted with Fr Tommy of Gort Inse Guaire Church and the local community about their plans at Town meetings, as well as with Deiredre Marlborough, granddaughter of Anne Coen.
Brent Mostert with Burren Lowlands said the plans will see the monument "made visually accessible and physically integrated with the pedestrian realm of the market space".
Together with the new seating this will, "allow the community to engage with the history of the market square and appreciate the well planned architectural space which was unique in its epoch."
Anyone who wants to have their say on this project can make a submission to the county council up to February 28.
A final decision on the planning application is due by March 21.