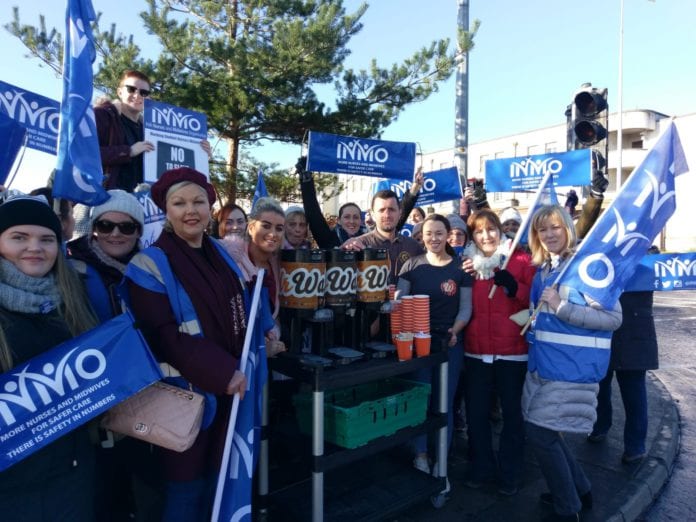 Nurses and midwives in the INMO have voted to accept proposals from the Labour Court that ended an industrial dispute earlier this year.
A dispute over pay levels, staffing and working conditions for nurses and midwives sparked three days of strikes in January and February before the Labour Court intervened to mediate.
The INMO balloted its 37,000 members on its proposals over the past several weeks, with 62% voting to accept the deal and 38% voting against.
General Secretary of the INMO Phíl Ní Sheaghdha said that they had "fought hard for patient safety and staffing in a determined, controlled and collective manner".
She added that she proud the safe, patient-focused strike organised by the strike committees.
In Galway, nurses and midwives at UHG and Merlin Park Hospital took to the picket lines on the street.
They said that poor pays levels were making it impossible to retain staff, and that pay levels should be brought in line with other health professionals like physiotherapists.
The Public Service Pay Commission rejected that there was a general problem with retention and offered a €20 million package of improved allowances which nurses also rejected.
The government did not want to negotiate a new deal with nurses out of concern that it would undermine a general public sector pay agreement which is set to expire at the end of 2020.
The Labour Court proposals include an enhanced pay grade for nurses once they reach a certain point, more promotional opportunities, and increased allowances.
Other public sector unions have indicated that they also seek changes to their pay agreements, with Minister for Education Joe McHugh telling the teachers conference here in Galway that there is "unfinished business" from the deal.
Phil Ní Sheaghdha said that the government is fully committed to implementing the Labour Court proposals and that the union will seek a meeting shortly to ensure this happens "without delay".