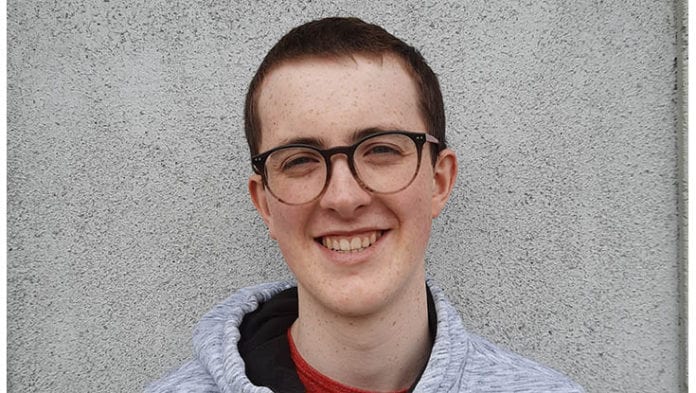 NUIG student James Hayes has been named the 2020 winner of the €2,000 Mary Mulvihill Award, a science media competition for third level students.
Seventeen year old James became the youngest ever winner of the media competition for a biographica essay about mathematician William Rowan Hamilton's discovery of quaternions.
'Cabra's Scientific Banksy: The Story of William Rowan Hamilton and Quaternions' belies its dry subject matter by weaving the story together with references to the aforementioned Banksy.
James also finds time to bring in Alice in Wonderland, the Angolan basketball team, an 1813 mental arithmetic contest of eight-year-old prodigies and the early days of NASA's space exploration programme.
"The science was clearly, accurately, and succinctly presented, in the midst of a well-researched and flowing narrative that brought Sir William Rowan Hamilton to life for new audiences," said Nigel Monaghan, Keeper at the National Museum of Ireland, and a member of the judging team.
The Banksy reference that is such a core part of the essay refers to the moment on inspiration that struck Hamilton in October 1843, when he carved the equation that had just come to his mind into the stones of Broombridge on the Royal Canal near Cabra, in Dublin.
This competition commemorates the legacy of science journalist and author Mary Mulvihill, who passed away in 2015. This year's competition invited entries on the theme of 'Our scientific heritage'.
On top of being the youngest winner yet of the €2,000 prize, James is also the first winner to come from a college outside of Dublin.
A Roscommon native, James is a first-year student of Mathematical Science at NUI Galway.
Mary's sister Nóirín Mulvihill, said that their family is delighted with the announcement.
"James Hayes' winning essay echoes Mary's passion for communicating Ireland's scientific heritage and it is wonderful to see this fine tradition continuing."
Other works which were submitted for this year's Mary Mulvihill Award included a history of the Dunsink Observatory, an environmental campaign to preserve Bantry Bay's kelp forests, and biographical essays on diverse figures, including computing pioneer Kathleen McNulty and microscopist Mary Ward.
Due to Covid-19 restrictions, the usual presentation of the awards at an event in Dublin cannot take place,