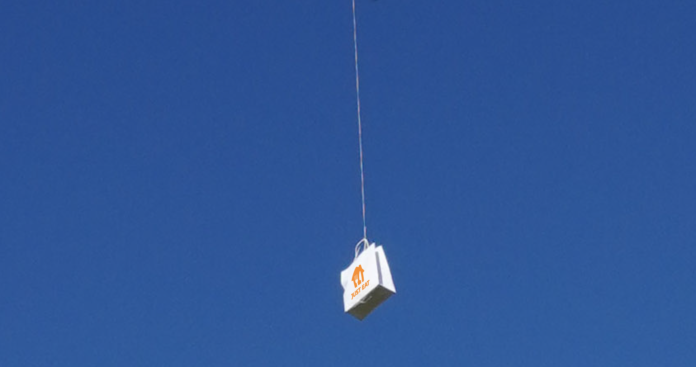 Drone delivery will be available to Just Eat customers in Oranmore from today, in what is a first for the popular takeaway service in Ireland.
Asian food lovers will be able to order from Camile Thai in Oranmore and have their delivery dropped to their door in under three minutes.
Powered by Manna, the world's first aviation-grade B2B drone delivery, the drone takeaway delivery service is set to go live for the first time ever on the Just Eat app from today, also a first for the Just Eat Takeaway.com Group.
Customers will select their dishes on the dedicated Camile Thai drone delivery menu page on the Just Eat app, which will be available between 4pm and 8pm, Thursday to Sunday.
"We're thrilled to see this exciting partnership with Manna get off the ground and delighted that our Camile Thai customers in Oranmore will be the first to enjoy this new delivery option right to their door," said Amanda Roche-Kelly, Just Eat Managing Director.
"It's a real success story for technology in the takeaway food industry in Ireland, one that has continued to show its resilience and innovation in the face of all the challenges it has experienced over the past year."
The takeaway chain Camile Thai also announced it is to create 220 jobs in Ireland this year, opening 15 new outlets.
"Following a period of live trials, we're thrilled to be extending the availability of drone delivery to our Just Eat customers," said founder Brody Sweeney.
"People will have a chance to enjoy healthy, great tasting Thai food three minutes after it's left our kitchen!
"Throughout our ten years in the home delivery business, we've really recognised the benefits of quick order fulfilment and this technology enables game-changing speed improvements."