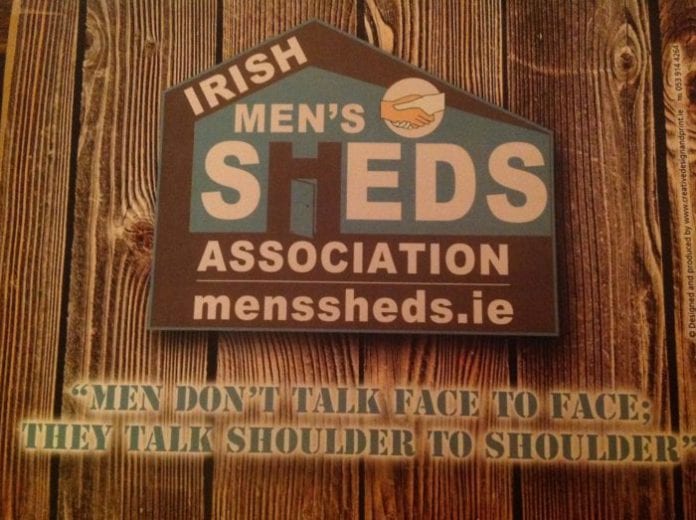 The Men's Sheds Association in Galway will receive €24,638 in funding from the government to help it cope with growing demand for its services.
The concept of a Men's Shed is to provide an inclusive space when men can meet to talk or work on individual projects in their own time.
The Men's Sheds Association mission statement says, "Most men have learned from our culture that they don't talk about feelings and emotions. There has been little encouragement for men to take an interest in their own health and well-being."
"Good health is based on many factors including feeling good about yourself, being productive and valuable to your community, connecting to friends and maintaining an active body and an active mind."
"Becoming a member of a Community Men's Shed gives a man that safe and busy environment where he can find many of these things in an atmosphere of friendship."
Minister for Ruaral and Community Development Michael Ring announced half a million in funding this week to support Men's Sheds across Ireland while he was touring a shed in Claremorris, Mayo.
The funding is for individual sheds to buy equipment or carry out minor improvements to their premises.
Galway-Roscommon TD Denis Naughten praised the work that Men's Sheds does in local communities, "Men's Sheds deserve Government support as their work and services are of huge social benefit to members in our communities."
"I will work with my Cabinet colleague, Minister for Rural and Community Development Michael Ring, to ensure more funding is made available to keep Men's Sheds thriving in our communities."
As a grassroots organisation, the Men's Sheds Association stresses the autonomy of each individual shed and try to make it as easy as possible for any like-minded group of men to set one up.
There are currently approximately 350 individual sheds around Ireland with more springing up every day, a sign that men are becoming more comfortable talking about their problems rather than sweeping them under the rug.
Making the announcement, Minister Ring said: "In towns, villages and cities which I have visited as Minister, I am continually struck by the great work that local Men's Sheds do in supporting important local initiatives.
"Among their ranks they have great expertise, experience and know-how and make a massive contribution to their local communities."
The money is being allocated directly to local authorities, with the county council receiving €18,841 and €5,797 going to the city council.
It will be up to individual Men's sheds to apply for funding from the Local Community Development Committtee by the August 31st deadline.
There are currently four Men's sheds active in Galway city and 13 more in the county.
CEO of the Irish Men's Sheds Association Barry Sheridan welcomed the news as a huge step forward in their efforts to help men achieve their personal potential.
"This announcement is the most significant development in the history of Men's Sheds in Ireland, and we as an Association are delighted to have played a role in bringing it about, via our consultations with Minister Ring's Department. This level of support reflects the impact Sheds are making on communities throughout Ireland."
Mr. Sheridan paid tribute to all the volunteers, staff, and supporters who made Men's Sheds what it is today and pledged to continue working towards a bright future for the group.