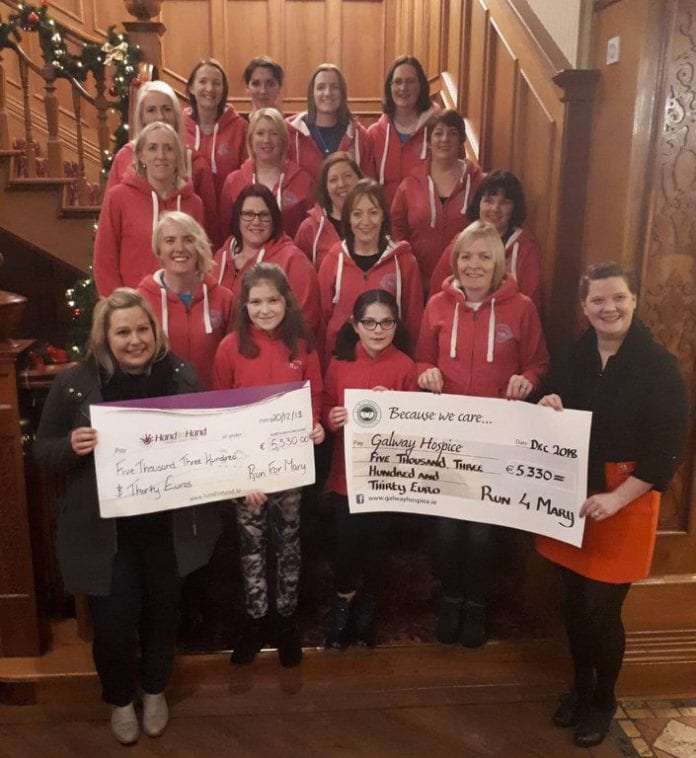 The 5th annual Run for Mary raised €10,660 which was presented to two local charities recently.
The annual 5km Run/Jog/Walk is organised as a memorial for Mary Prendergast and her baby son Jack.
The most recent run took place in November at Peterswell village near Gort.
Galway Hospice and Hand in Hand were each presented with half of the total at the lady Gregory Hotel in Gort recently.
Galway Hospice, the main source of palliative care in the city, expressed their thanks to everyone who helped organise the run or who took part.
Hand in Hand is a non-profit based in Galway that provides support for children with cancer and their families.
Founded in 2006 it provides practical and emotional supports to help alleviate some of the stress of living with cancer.
Baby Zach passed away when he only a week old in June 2012, five months after that loss Mary was diagnosed with cancer.
According to her friends her "courage and dignity" as she fought cancer was in inspiration to all.
She and her husband of eight years Paddy were blessed with three children, Carlyn, Roslyn, and little Zach.
Mary was a popular member of the South Galway Athletics club, and this is her friends' way of keeping her memory alive.
The organisers of the run say they are "blown away" every year by the number of people who come out in support of them.
With this year's donations the memorial run has raised nearly €60,000 for worthy causes in Galway