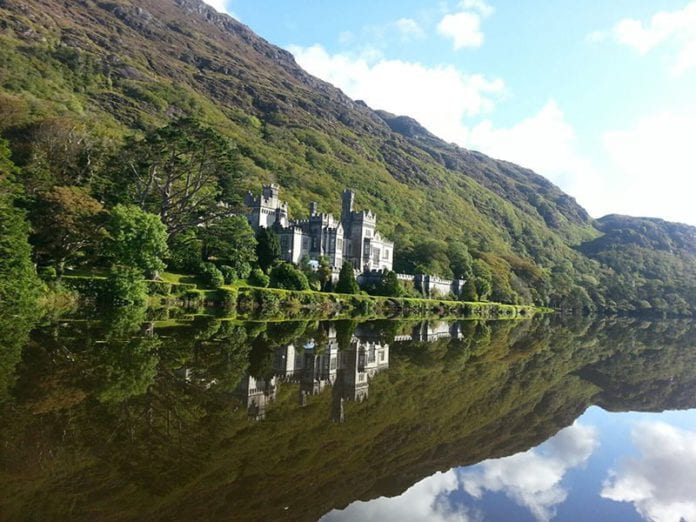 Connemara's Kylemore Abbey has opened a new €1.7 million visitor experience ahead of the centenary of the Benedictine order's arrival at the Victorian estate.
This redevelopment of the interior and surrounding landscape at Kylemore brings the history of the Abbey to life and makes the gardens more inviting than ever.
The visitor experience features a large new wing of four authentically refurbished rooms for visitors to discover, brought to live with incredible attention to detail by a team of architects and historians.
A new multimedia presentation will take visitors on a journey through history; connecting tales of politics, tragedy, romance, and spirituality throughout the history of the estate and abbey.
This presentation includes historical footage, archive photographs and artefacts, state of the art speaking portraits and beautifully updated period rooms with intriguing details throughout.
The landscape surrounding the Abbey has also been reconditioned to match the grandeur of the interior and to ensure access for those with reduced mobility.
Conor Coyne, Executive Director of the Kylemore Trust said the Abbey and Gardens are a "historic and internationally admired attraction" that makes up a "focal point" for tourism in Connemara.
"The new Visitor Experience, at Kylemore, will bring the fascinating history of the estate to life and further enrich the experience of visitors to the Wild Atlantic Way."
Entitled 'From Generation to Generation…The Story of Kylemore Abbey' this visitor experience was developed with an investment of €1.7 million under Fáilte Ireland's Grants Scheme for Large Tourism Projects.
Orla Carroll, Head of Product Development for Fáilte Ireland said this project is a perfect of how attractions "steeped in history and Irish culture" can use new technologies to create immersive experiences for visitors.
Sr Maire Hickey OSB, Mother Abbess of the Benedictine Community at Kylemore Abbey said that they have been caring for the castle, gardens, and estate for 100 years now, and are deeply grateful to Fáilte Ireland for its commitment to the historic site.
"They have enabled us to present the public with this new Visitor Experience that embraces the contribution of the Benedictines to the survival of Kylemore as it exists today, and allows us to share our beautiful home with all who come to visit."
Last year Kylemore Abbey attracted over 300,000 visitors to view this beautiful stately home and gardens on the shore of Lough Pollacappul.
Minister for Transport and Tourism Shane Ross opened the visitor experience in Connemara last week, saying that it would push those number even higher.