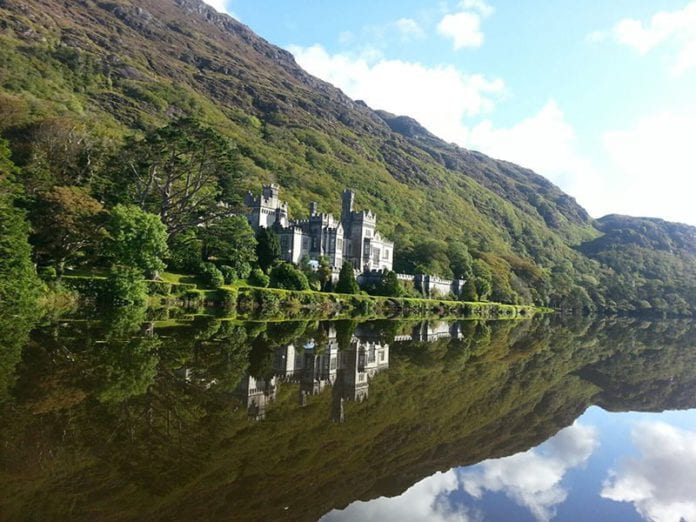 The iconic Kylemore Abbey in Connemara will be lighting it's Victorian walls up red this month for World Heart Day.
The annual World Heart Day is organised by the World Heart Federation each September 29 to spread awareness of cardiovascular diseases.
Cardiovascular problems remain the single biggest cause of death globally, and this day is meant to promote preventative measures that can reduce the risk of heart disease.
In association with Croí, the west of Ireland heart & stroke charity based out of Newcastle in the city, Kylemore are creating an itinerary of events for September 29.
Events will take place at the 1,000 acre estate of the Abbey & Walled Gardens which it is hoped will appeal to young and old in the fight against heart disease across Connemara, Galway and the West of Ireland.
Other iconic landmarks that are known to be lighting up as well to mark the occasion include the Browne Doorway in Eyre Square and Bon Secours hospital.
On top of the red light show there will also be two hikes to the Sacred Heart Statue above the Abbey at 11:30am and 2:30pm.
These are dedicated to Croí volunteers, Kylemore Abbey team members and their families.
Phillip Lee, recently appointed Head of Tourism and Hospitality at Kylemore commented, "We're delighted to be associated with Croí for World Heart Day."
"In such a stunning location with it's unique mindful and spiritual atmosphere, visitors are bound to experience excellent results from World Heart Day at Kylemore Abbey and Walled Gardens".
If the day leaves you feeling peckish then Mitchel's Café will offer visitors a deliciously tasty Heart Hero menu option that doesn't strain the ticker.
Healthy locally sourced options will include
homemade Kylemore soups, salads with herbs and leaves from the Kylemore Abbey Victorian Walled Gardens, fish and dishes made from locally sourced produce.
The popular dessert menu will feature fruit crumble with oatmeal toppings, fruit tartlets along with many other healthy sweet treats.
Visitors will be advised to work off the delicious treats with woodland and lakeshore walks on the Kylemore Estate.
While you're in Mitchell's Café visitors can sign the Heart Hero's Wall in the foyer to show their support for the goals of World Heart Day.
Leading the signatures on the day will  be Mother Máire, Abbess of  the Kylemore Benedictine Community who reside on the Estate, along with Mitchel's Café Sous Chef Dolores Heanue who recently experienced the benefits of Croí's work in Galway following cardiac surgery.
Kylemore Abbey and Victorian Walled Gardens offers visitors a unique experience on its 1,000 acre estate, including the recent €3 million From Generation to Generation Exhibition which traces the history of the abbey.
For more information on World Heart Day with Croí, the heart and stroke charity, and Kylemore Abbey and Walled Gardens please log onto websites, www.croi.ie or www.kylemoreabbey.com or follow both on social media, Facebook, Twitter and Instagram.