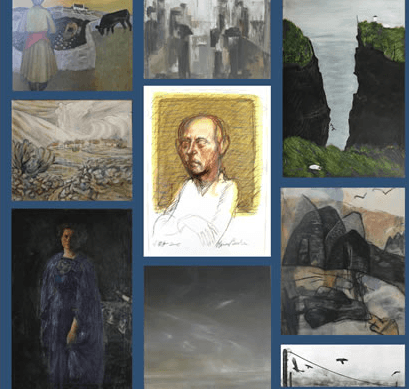 NINE artworks from NUI Galway's art collection will be on display in the Irish Embassy in Paris for two years.
The exhibition, Looking West – Súil Siar – Vues de l'Ouest, will be open to the public in the art gallery of the Quadrangle  from the 21–24 February, from 12–4pm, before it departs for its temporary home in the French capital.
It will be the first exhibition of a body of work from the collection to travel overseas. The artworks will go on display in the Embassy building, which is located close to the Arc de Triomphe in central Paris.
Fionnuala Gallagher, Arts Officer at NUI Galway, said: "It is a special treat to have these artworks on display in such a beautiful, light-filled building, in the heart of Paris. We hope that the paintings settle in well and that they inspire further exchanges between Ireland and France and between artist and viewer."
The Embassy chose the nine artworks from a curated list of 20 pieces (ten by living artists and ten by deceased artists) with a connection to the West of Ireland.
They represent the variety and originality of NUI Galway's substantial art collection.
Looking West offers a unique glimpse into modern and traditional Irish art, from Grace Henry and her contemporary Lily Williams via Gerard Dillon, John O'Leary and Brian Bourke to young artist Moira Comiskey.
It captures the changing Irish landscape, weather and soul, with places and portraits in styles ranging from realism to abstraction and media across painting, drawing and printmaking.
The opening reception with Gearóid Ó Conluain, An Rúnaí of NUI Galway with special guest Honorary Consul Catherine Gagneux will take place on Wednesday, 21 February, at 12 noon.