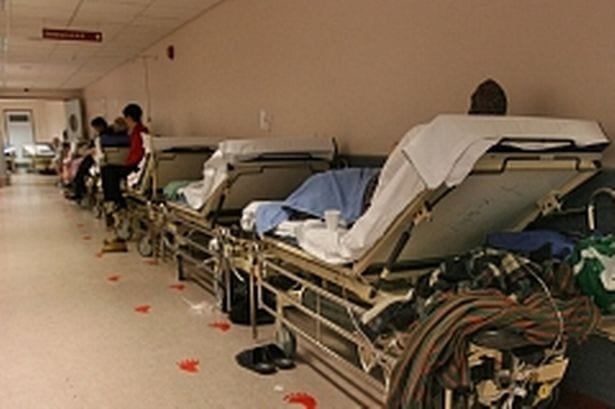 Hospital overcrowding has grown back to its worst levels since the start of the COVID-19 pandemic in March 2020.
There were 381 admitted hospital patients without a bed this morning according to the Irish Nurses and Midwives Organisation.
University Hospital Galway is the third worst affected hospital in the country today, with 39 patients on trolleys. A further 14 patients were admitted with no beds available at Portiuncula Hospital.
INMO General Secretary Phil Ní Sheaghdha said that the health service is "rapidly swinging" from a COVID crisis, back to an overcrowding crisis.
"The HSE said at the start of the pandemic that overcrowding would not be tolerated, but it has been on the rise consistently in recent months."
"Our members cannot withstand the pressures of overcrowding twinned with the pressure of another wave of COVID. If we continue along the current trajectory, patients and staff will find themselves in a dire situation."
While regular overcrowding levels are climbing back to where they were before the pandemic, the number of hospitalised COVID-19 patients is also on the rise.
There were a total of 208 confirmed COVID cases in Irish hospitals as of Sunday as numbers have continued to climb steadily.
COVID patients put additional strain on hospital space and resources, as the isolation required for the highly transmissible virus reduces the amount of room for other patients.
Phil Ní Sheaghdha said that a "laser-like focus" is needed from the HSE to reduce hospital overcrowding levels.
"That means scaling back services in badly hit hospitals, taking on extra capacity from private hospitals, and supporting GPs to return to their normal clinical work."
Many services at hospitals were reduced or suspended entirely for much of the pandemic in order to put focus on COVID containment, and reduce the risk of passing the virus to patients attending hospital.
This resulted in extensive backlogs and waiting lists for most services building up, which have only begun to be addressed as the health service has resumed.
A cyberattack on the HSE's computer services also had a serious impact on hospital operations in May, causing long delays by forcing staff to work without computers.
This was still having a significant impact on health care services as of the end of July.