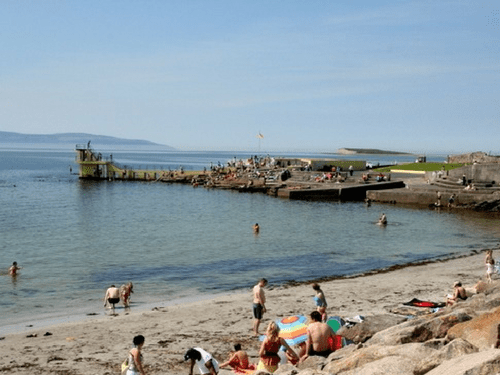 The cleanest beaches in Galway have been named by the internationally recognised Blue Flag and Green Coast environmental awards.
Beaches in Ireland which retained, were awarded, or lost their Blue Flag or Green Coast status for 2019 were announced today by An Tasice.
The Blue Flag awards are one of the most recognised eco-labels in the world, recognising beaches for their compliance with sewage treatment and bathing water quality criteria.
The programme aims to raise environmental awareness and promote sound environmental management of beaches, marinas and eco-tourism boats around the world.  
Galway retained all eight of its Blue Fag awards this year out of 80 given out nationwide, down from 83 last year.
Blue Flag beaches in Galway are Salthill and Silverstrand in the city, as well as An Trá Mhór (Inverin), Cill Mhuirbhigh (Aran), Loughrea Lake, Portumna, Trá an Dóilin (An Cheathrú Rua), and Traught beach, Kinvara.
"The Blue Flag has operated in Ireland for over thirty years now," said International Blue Flag Director Sophie Bachet Granados announcing the awards.
"At The Foundation for Environmental Education we have been impressed by the standard of the sites from Ireland over this period."
She added that the Blue Flag is a "symbol of excellence in environmental education, management, water quality, safety and services," and was delighted to present these awards to successful beaches this year.
Galway was also awarded eight Green Coast awards which recognises beaches for their clean environment, excellent water quality and natural beauty.
This programme began in Wexford in 2003 and were first rolled out nationwide in 2008 by An Taisce.
An important part of them is the involvement Clean Coast groups and other community volunteers who work to maintain their local coastal beauty.
In Galway city Green Coast awards were given to Silverstrand, looked after by Galway Atlantaquaria and Eglington Residents Committee, and Salthill beach kept clean by Meanscoil Muire Newtownsmith, Galway Atlantaquaria, Grundy, and NUIG-GMIT Sub Aqua Club. 
In the county awards were given to Aillebrack/Silver Hill with Aillebrack Clean Coasts Group; East End Bay, Inisbofin and Dumhach Beach which are both maintained by Inishbofin Development Company; Trá Poll na gCaorach, Inis Oirr and Trá Inis Oirr, kept clean by Coiste na Trá c/o Comhar Caomhán Teoranta; and Renvyle Beach with Renvyle Beach Group.
In total 62 Green Coast Awards were handed out to community groups and the stretches of coast they look after, the highest number awarded in Ireland to date.
Ian Diamond, Coastal Awards Manager for An Taisce said that Green Coast awards "are not easily achieved" and represent strong efforts by Clean Coast Groups and local authorities to maintain their coastline.
"An Taisce would like to acknowledge in particular the dedication of Clean Coasts groups around the coast who give up their time to care for their local beaches throughout the year."