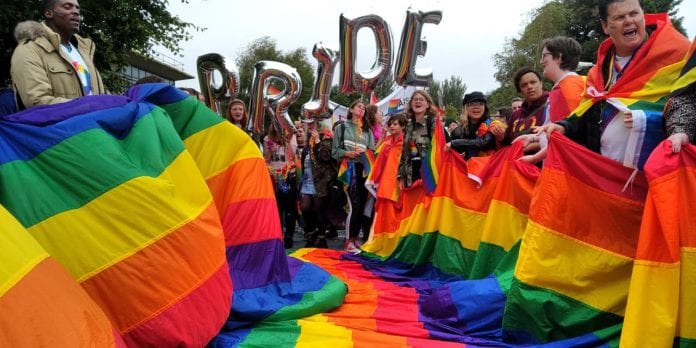 More than 1,000 Galwegians turned out on Saturday for a massive pride parade – the culmination of a week of activities celebrating the LGBT community.
This year marked the 29th annual pride celebration in Galway with what may have been the largest crowds yet.
Activities throughout the week included workshops and discussions on mental health and activism as well as music, comedy, theatre, film, and club nights.
Highlights included the play 'Jungle Door' by Eva's Echo Theatre Company at Teach Solais and Katie O'Connor and Stephen Sharpe playing at the Roisín Dubh.
The 126 Gallery showed a Pride art exhibit during the week, and every day saw a pop-up Pride shop at Teach Solais.
People from all walks of life braved the rain and wet weather over the weekend to come out in support of LGBT rights.
Rahoon resident and photographer Avi Ratnayake captured some great moments from the parade, which saw a large number of Galwegians marching from Eyre Square all through the streets of Galway.
"It was a great turnout and a lot of fun," said Ratnayake.
"I loved the shared energy at the parade, perfect strangers welcoming each other, doing make up and celebrating. Possibly the biggest parade I have seen in Galway. A jubilant occasion!"
Galway Pride chairperson Sharon Nolan commented:
"We had a fantastic week! We'd lots of events organized from Monday to Sunday, and from our launch on Monday onwards we had a wonderful time with a great turnout at everything that went ahead.
"The parade was one of our most well attended yet! Over 1000 folks marched through the streets of Galway, and there was a wonderful turnout of support along the streets for us all to march past too – which was extremely heartening."
Click here to see more photos from the event
Nolan added: "The only thing that wasn't completely on our side was the weather, but sadly that can't be controlled – but we powered through as much as possible as only Galway people would."
---
Watch Ratnayake's video of the parade down Shop Street:
https://www.facebook.com/AviRatnayakePhotography/videos/256468754971928/

---
The festivities would not have been possible without the support and help of the Galway community.
Nolan said: "A huge thanks to Nova bar and the Roisin Dubh who played a huge part in making sure the week was possible with their support, and to the Secret Garden, Pálás cinema, Teach Solais, and 126 Gallery who also hosted us for events throughout the week.
"Beyond that, a huge thanks to our performers throughout the week, Club GASS, our volunteers, the committee – their hard work made Galway Pride 2018 what it was, and as great as it was.
"As for next year, with it being our 30th year it's going to be really special – and we plan on marking it with style!"