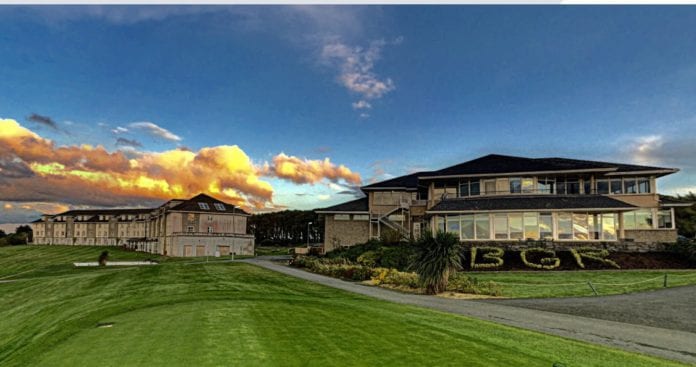 The former Galway Bay Resort Hotel, closed for over a decade will be both reopening and expanding after getting the go ahead for a large scale revamp.
Connacht Accommodations Ltd has secured planning permission for major renovations to the existing apart hotel which will expand its guest space and new leisure facilities.
Among the work being undertaken as part of the revamp to the scenic resort at Renville West, Oranmore, the developer is doing away with the apartment side of the apart hotel.
These apartment rooms will be converted into regular guest bedrooms, bringing their total number up from 92 to 145.
The ground floor of the building will also be expanded to accommodate a new bar and leisure centre, which will be equipped with a 20m long swimming pool, gym, and a spa.
Connacht Accommodation said that reopening the hotel will provide and economic boost for the area, not least by linking with the existing Galway Bay Golf Resort to improve both their offerings.
To help with that a link between the hotel and golf club buildings will be constructed over two levels.
First granted planning permission in 1995, the hotel finally ceased operations and shut down in 2007.
"The applicants now wish to bring the derelict building back into use by reopening the hotel, with the addition of new facilities, including a leisure centre, which will ensure its long term survival," the planning application states.
The design of the new extension was deliberately chosen to be a "contemporary treatment" which will contrast visually with the existing buildings.
"A limited palate of materials is proposed for the new elements, with a combination of natural timber (cedar) vertical cladding, warm cut limestone (Portuguese, Jura or similar), aluminium curtain walling and green living walls, which will blend the new extension into the landscape".
The hotel is on the same site as the Galway Bay Golf Resort, and it is intended that vehicular entry and exit with be via the existing access roads.
The hotel itself currently has 135 carparking spaces, less than 145 required, but the developer argued that with an additional 198 spaces at the golf club, there is more than sufficient room.
No submissions were made to the council by members of the public either supporting or objecting to this project.
Galway County Council granted planning permission with a total of 15 conditions attached.
Among those, no music may be played at the hotel between the hours of 8am and 10pm which exceeds the background noise level by more than five decibels.
And before any work commences on site, the developer must pay €28,886 to the council as a contribution towards public amenities serving the hotel.