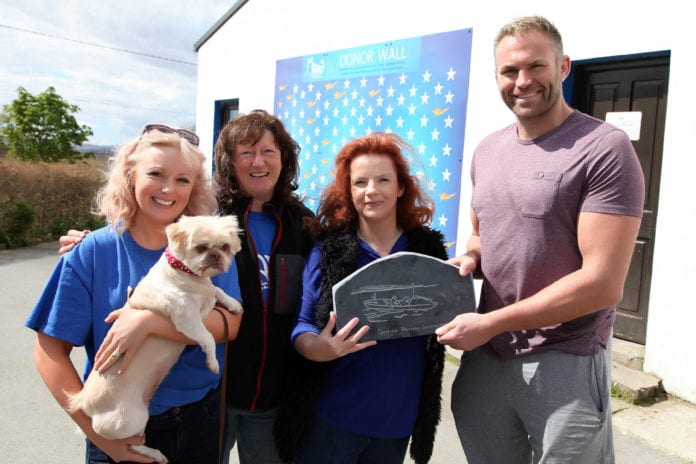 Adventurer and former Leinster and Connacht rugby star, Damian Browne, was honoured at a surprise reception in Connemara hosted by dog rescue charity MADRA.
The reception took place at the Camus-based kennels, where the Galway man was presented with a plaque to represent the naming of the new Damian Browne High Care Unit.
MADRA was one of three charities selected by Damian as he undertook the world's toughest row – a 4,800km solo journey from San Sebastian to Antigua.
He has surpassed his target, raising over €65,000 to date for his three chosen charities – MADRA, Médecins Sans Frontières Ireland and the Strong Roots Foundation, Rwanda.
"As a Galway man and a dog lover, MADRA is the perfect fit," explained Damian at the presentation.
"I have my own 9-year-old labrador at home and I really admire the work undertaken by MADRA".
After 63 days at sea, Damian spoke of how it took him some time to recover from the Atlantic Challenge and "to take it all in".
Jonathan Kent, MADRA General Manager, wanted to surprise Damian with the homecoming event at the kennels in Camus.
"Damian thought he was coming out to walk the dogs!
"We are in absolute awe of what he did and the challenge he undertook to raise so much money for these three charities.  I wanted to shake his hand and thank him personally.
"It is great to have our own homecoming for him.  We are delighted to show him the work we do out here and he put in an amazing effort for all of us here at MADRA," he said.
The event, which took place last week, was organised by MADRA staff and volunteers to thank Damian for his fundraising efforts.  It was attended by Minister of State, Sean Kyne TD and Cathaoirleach of Galway County Council, Eileen Mannion.