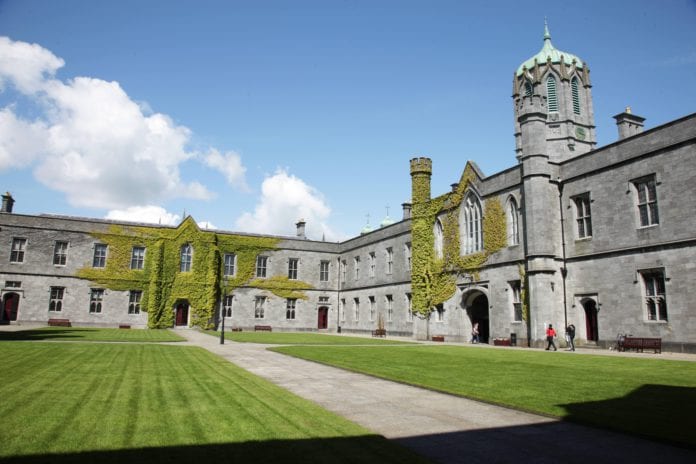 NUI Galway has launched a special orientation programme to welcome a record intake of first year students to the University for the second year running.
Around 3,500 new students will be taking up offers of places on programmes at NUI Galway this year, with in-person lectures available for all students from next Monday 27 September 2021.
Ahead of next week, the University has confirmed a walk-in vaccination centre is to operate on campus. The service will open next Tuesday, offering vaccination to students from 9am-5pm, three days a week (Tuesdays-Thursdays).
A new campus map has also been created and linked to the NUI Galway app to help students, staff and visitors to find their way around the University grounds.
More than 127,000sq metres of indoor space has been mapped, allowing step-by-step navigation to any room or location in the most popular buildings on campus.
President of NUI Galway, Professor Ciarán Ó hÓgartaigh, extended a warm welcome to all those coming to the University campus for the first time, and to those returning to continue their studies.
"I want to say congratulations and extend a warm, safe welcome to the class of 2021. All of the students coming to campus this year have demonstrated remarkable resilience amid the significant challenges presented by Covid-19," Professor Ó hÓgartaigh said.
"Our education and our lives have been disrupted by the pandemic and it is our aim to provide the best experience for students, safely and sustainably, on campus, for the academic year ahead.
"Táimid buíoch do phobal na Gaillimhe agus an cheantar máguaird don tacaíocht fial dár micléinn, go bhfuil gá leis i mbliana níos mó ná ariamh. We are conscious of our impact on Galway and the health, wellbeing and safety of our staff, students and the wider Galway community is our top priority. We are working hard to make this academic year a success, ensuring NUI Galway operates within public health guidelines.
"As part of that we are asking everyone in our university community to recognise the importance that we place on our values of respect, openness, excellence and sustainability and to maintain our commitment to personal and collective responsibility for the public good.
"We thank all our students who have already taken up an offer of a vaccine. A walk-in centre is opening and we urge all those who are eligible for a vaccine, and haven't yet taken up the offer, to do so now."
Róisín Nic Lochlainn, NUI Galway Students' Union President, said that NUI Galway Students' Union is there to represent all NUI Galway students and defend their rights.
"We are welcoming our students to campus with a mix of online and in person events to help them make friends, save money and become a part of the University community, said Róisín.
"This includes our huge Rudaí Álainn bag giveaway, free SU Card credit, our Walk & Talks, the Hump Day Hoolie, outdoor cinema, a Beach Clean Up, a swop shop, our Life Skills Courses, Walktober and the launch of our Hygiene Bank initiative.
"We have worked with the University to make sure every measure has been taken to ensure that your safety is our priority while also looking forward to an enjoyable year on campus."