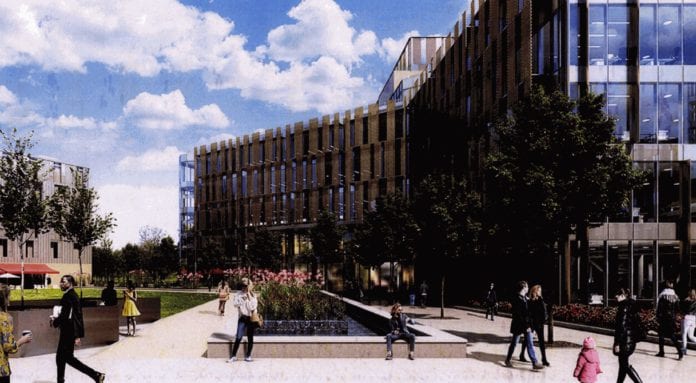 Planning approval has been granted for the first stage of a €200 million Crown Square office, hotel, and housing development in Mervue
A planning application was submitted to the city council for five office blocks ranging from three to six storeys above ground level and a 175 room hotel.
Crown Square Developments Ltd applied for a ten year grant of permission for Phase 1 of the project at the junction of Monivea Road and Joyce's Road which has gone unused for years.
It's expected that the offices could help deliver a significant level of employment, as a lack of office space has been highlighted as a challenge in getting companies to locate to Galway.
When completed the five office blocks will be able to accommodate 3,156 workers between them, while the hotel and other facilities would bring total employment capacity on site to roughly 3,500 people.
This commercial application was for Phase 1 of a larger development at the Crown Square site which will also include a large scale residential element in Phase 2.
Plans for Phase 2 include 286 apartments intended for renting, along with amenities like a gym, medical centre, a café and shops.
Approval for Phase 2 will be sought directly from An Bord Pleanála under legislation to fast track large scale housing projects.
As the two phases are an integrated development, Phase 1 plans include car parking facilities for the commercial and residential elements totaling 1,395 spaces at upper and lower basement levels.
In January the city council raised concerns with developer Padraic Rhatigan about a number of issues, in particular questions of fire safety.
The council said the development did not meet fire safety requirements for its "means of escape, atrium voids protection, car park fire protection, access for appliances".
However the developer argued in its response that Henry J Lyons Architects are confident the design and site layout is compliant with regulations, and that this will be shown in the developed design when seeking a Fire Safety Certificate.
The council also instructed the developer to liaise with the city's Transport Section to "enhance the potential for sustainable transport measures including public transport facilities".
A number of submissions were made by members of the public, in particular with concerns about the effect this development could have on traffic along the Monivea road.
While current access to the site is off Joyce's road, it is intended that when the development is complete vehicles will also be able to enter and leave Crown Square onto the Monivea Road.
The Crown Square project has had a troubled history. Abandoned in 2008, it fell under receivership with NAMA in 2012 until developers JJ Rhatigan signed a deal to take over the site again in June of this year.
Galway city council ultimately granted planning permission for the project with 27 conditions attached.
photo: artist's impression by Henry J Lyons Architects