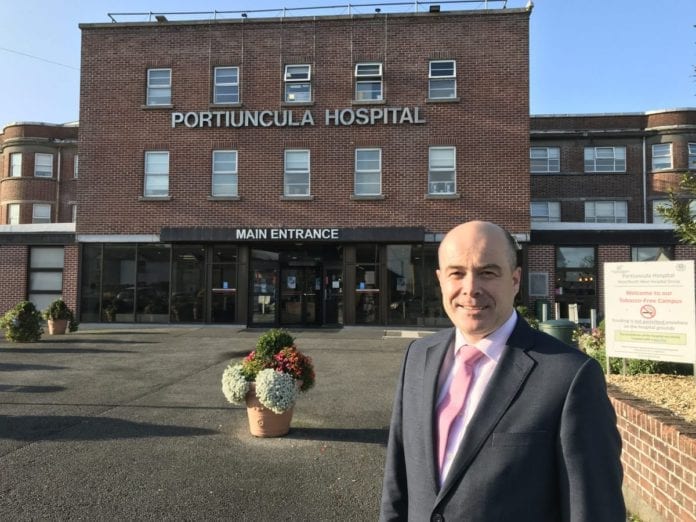 Calls have been made for the urgent full time opening and staffing of the St. Claire's Ward at Portiuncula Hospital to alleviate overcrowding.
Galway-Roscommon TD Denis Naughten said that the 5 day ward at Portiuncula Hospital, which has 12 beds, should be running seven days a week to deal with the large number of patients on trolleys.
Deputy Naughten said that if this ward had been fully open it would have "significantly addressed the problem at Portiuncula", which has seen high levels of overcrowding this week.
Portiuncula has found itself with more than 20 patients without a bed in the past several days, an unusually large amount for the Ballinasloe hospital, which is typically much quieter than UHG.
"Approval must be given to have these beds opened and staffed on a 7 day a week basis with immediate effect," Denis Naughten urged.
This has been the worst week for hospital overcrowding on record, with 760 patients on trolleys for two days in a row on Monday and Tuesday, by far the highest level ever recorded.
The Independent TD appealed to people who have been referred to Portiuncula by their GP to consider going to Roscommon Hospital instead, which is "within half an hour of Athlone and within an hours drive of Tuam, Turloughmore, Bullaun & Eyrecourt".
"Patients should ask GPs if they can have tests or x-rays in Roscommon Hospital rather than spending hours in an emergency department waiting to see a doctor before accessing x-rays or scans".
Not only is Deputy Naughten seeking the "urgent intervention" of the Minister of Health to open St Claire's Ward, as well as the 17 bed St Brigid's Ward at Roscommon Hospital.
He said that better use should be made of the injury unit at Roscommon, which treat broken bones, dislocations, sprains, strains, wounds, scalds and minor burns and other issues which could clog up an Emergency Department.
"This would also help to take pressure off staff in Portiuncula and ensure that older people and children can access treatment quicker in Ballinasloe" concluded Denis Naughten.